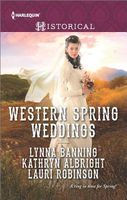 SPRING WEDDING FEVER IN THE WILD WILD WEST!
The City Girl and the Rancher by Lynna Banning
Series: Smoke River (Book 2.5)
Penniless, Clarissa Seaforth leaps at gruff rancher Graydon Harris's offer to become his cook. She's never cared for a man before, but surely it can't be hard to learn…
Very good story. Clarissa has accepted an offer of marriage from an unknown rancher in Oregon, in order to have a home in which to raise her adopted daughter Emily. On the train ride to the west, she becomes acquainted with Gray, another rancher from the same time. When her fiance doesn't show to pick them up, Clarissa takes a job singing in the saloon to earn desperately needed money. When her drunk fiance shows up and makes unwanted advances, Gray is there to rescue her. He offers her and Emily a place on his ranch, where she can serve as his cook until she earns enough to return to Boston.
I loved Gray, who was a kind and honorable man under his gruff exterior. I loved the way he was so protective of them, even though he didn't understand why he felt that way. His family life growing up had left him determined that he would never marry. His ranch was the most important thing in his life. It was fun to see the way that little Emily wiggled her way into his heart first. I loved seeing how he helped Clarissa settle in to life on the ranch.
Clarissa was very naive about what to expect when she came west. Her family had had money until her brother was lost at sea, leaving her with nothing. She believed everything the man she was supposed to marry told her, and was horrified to discover how he had lied. At this point, she doesn't like anything about the west, but has to make the best of it. I liked her determination to learn to cook, since that's what she's been hired to do. The scene with her first chicken was great.
I liked seeing the relationship develop between Gray and Clarissa. There are some sparks that start flying between them that neither is quite sure how to deal with, while other interactions as Gray introduced her to life on a ranch were pretty sweet. Since he had never experienced love, he doesn't realize that that is what he begins to feel for her. All he knows is that he wants to keep her and Emily on the ranch with him. Clarissa is pretty focused on returning home until little Emily opens her eyes to what is right in front of her.
All the time there has been worry about what the man she turned down is going to do. He is already creating problems for Gray because of the ranch. There is definitely a feeling of impending trouble. When it happens, Gray has to decide which is more important to him - Clarissa or the ranch. The resolution came with a surprising twist and a sweet ending.
His Springtime Bride by Kathryn Albright
Spring is in the air… Can rancher Gabe Coulter and Riley Rawlins, the boss's daughter, find forgiveness and renew the lovers' vows they made so long ago?
Excellent story of redemption and second chances. When Gabe got out of prison, after serving his sentence for manslaughter, he went back to the ranch he grew up on, hoping to start his life over. When he got there, he discovered that the land had been bought by the neighboring rancher, a man he considered his enemy, but also the father of the girl he had loved. Gabe has matured a lot since the last time he saw Rawlins, and faces the man determined to get his land back. Meanwhile, Riley has been living in Philadelphia with her mother's family for the last fourteen years, until trouble with her son sends her back to California and her father's ranch. Neither Gabe nor Riley had ever expected to see each other again.
Both Riley and Gabe realize that their feelings had not changed, but neither is sure that they can trust the other. Riley believes that Gabe had used her for revenge against her father and then deserted her, leaving her heartbroken and pregnant. Gabe, half white and half Indian, believes that Riley had thought herself too good for him, and now he believes it too. Then there is Riley's son Brody, who has some serious attitude problems that remind Gabe of himself at that age.
There was a lot going on in this story. There is Gabe's resentment of Rawlins and the things that he believes went on all those years before. Rawlins seems like he could be guilty of those things, but he also gives Gabe a job and the chance to earn back his land. Riley's return gives her a chance to repair her relationship with her father, who she partly blames for her separation from Gabe. Riley also has to decide whether Gabe is trustworthy enough to be told about Brody.
I really liked seeing Gabe and Riley getting to know each other again. It wasn't an easy process as both had conflicting memories of events from fourteen years earlier, memories that had to be compared and reconciled before they could move on. I also liked seeing how Gabe was able to reach past Brody's resentments and help the boy grow and change for the better. Through it all, Rawlins seemed to hold the answers to many of the questions that Gabe and Riley had, and was just waiting to see how both of them handled their new realities before providing them. There were some tense moments at the end, but I loved seeing it all come together.
When a Cowboy Says I Do by Lauri Robinson
Dal Roberts must make his sister's wedding a success, which means accompanying seamstress Ellie to Wichita. Could there be a double wedding on the horizon…?
Fun story. Dal is guardian to his younger sister since the death of their parents. She's about to get married, with her best friend Ellie promising to make her dress. The day that the three are to leave for Wichita to get the supplies, Clara falls down the stairs and breaks her ankle. Dal thinks this will get him out of the trip, but Clara insists that Dal take Ellie anyway. Dal isn't looking forward to a trip with a woman who blames him for the death of her father.
Ellie is both excited and scared about the trip. Excited, because she'll get to experience things that she's only dreamed of. But scared, too, because she's never been to a city before. When she finds out Clara has been hurt and can't go, she's disappointed because she thinks the trip will be canceled, but when she discovers that Dal wants her to go anyway, it makes her even more nervous. She sees him as an arrogant know-it-all who looks down on her because of her father.
I loved the story from the moment Dal and Ellie met at the train station. Ellie may feel that Dal looks down at her, but she has her pride and she refuses to let her nervousness show. I really enjoyed seeing her tell Dal exactly what she thought. Even better was his reaction, and how he began to look at her a bit differently. I liked the train trip and how they got to know each other a little better. It was sweet to see Dal's protectiveness when they got to the hotel and he faced down the snooty clerk. It was fun to see the two butt heads the next morning. I did get a little frustrated with the way that Ellie's pride kept getting in the way of the things Dal tried to do for her.
Dal's protectiveness was still in full swing when he escorted her to the dress shop. That was important when his ex-girlfriend showed up and started making trouble. He did go a bit overboard after he took her back to the hotel, and I loved seeing how Ellie was determined on her own course (but not stupid about carrying it out). I loved seeing Dal come to realize that Ellie was more than her father's daughter. It was really sweet to see him want to make the Cattlemen's Ball special for her.
Ellie also began to see Dal differently. She saw that he wasn't really arrogant, but confident. His love for his sister was also plain to see, which made her soften her attitude toward him. I liked how she found it so easy to talk to him, and their teasing was fun. She found it hard to accept the things he wanted to do for her, but the chance to look beautiful for him was impossible to pass up. The confrontation with his ex at the ball was hysterical, and I loved seeing how Ellie felt her own protectiveness toward Dal. Her feelings for him had grown, but she still feels that the daughter of a rustler doesn't belong with a rancher.
The ending was really sweet, with some interesting twists involving her brothers. Dal was great with his determination to make her see that she belonged with him.