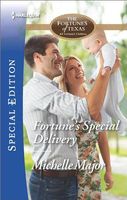 Series:
Fortunes of Texas: All Fortune's Children
(Book 4)
CONGRATULATIONS, IT'S A BOY!
Everyone knows Charles Fortune Chesterfield. The flirty son of Sir Simon and Lady Josephine Fortune Chesterfield is famous for his wit, his charm…and his libido. He's left a trail of lovely ladies in his wake, but Alice Meyers stood out from the rest. The beautiful blonde Texan was shy, sweet and a virgin. Now, apparently, she is a mother. And guess who's a dad?
When Charles announces he is extending his stay in Austin to get to know his son, Flynn, better, Alice doesn't know whether to be happy or terrified. Will she once again fall prey to "the royal treatment"? Or could she and Flynn actually find a home in the handsome Brit's heart?
Very good book. I've been waiting for Charles's story and it did not disappoint. Charles is the charmer of the family, known for his flirty ways and ability to have a good time. He is the current face of British Tourism, nicknamed "Bonnie Lord Charles". He is in the US visiting family when he receives a phone call from Alice, a young woman he had met the year before. He is stunned to discover that he is a father.
Alice is an intelligent, but quiet and somewhat shy woman. When she met Charles at a tourism conference the year before, she couldn't believe that he wanted to spend time with her. The connection they felt spilled over into a night together, one that produced her son Flynn. Alice wasn't sure Charles would be interested in knowing that he has a child, but knew she had to tell him.
I really liked both Alice and Charles. Alice is a woman that everyone underestimates, even her family and friends. I loved the way that she took control of her life when she got pregnant, developing an independence and confidence she didn't know she had. She's a wonderful mother, putting her son first in everything she does. What I loved about Charles was that he was a normal guy under that facade that he shows the world. He has some real self-confidence issues, feeling that what he does has no real worth. He sees the way he has charmed his way through life and feels that he has no real substance, and longs to be someone that his father would have been proud of.
From the moment they met again, the sparks between them are obvious. It's funny to see Alice experience (but deny) what she calls "the Charles Effect" as her attraction to him continues to grow. Seeing the way he steps up to be a real dad to Flynn just makes her fall harder for him. I loved seeing him with Flynn. There are some really sweet scenes of the two of them together. Charles is just as drawn to her, even though she's nothing like the women he usually dates. When he is with her, he feels like a different man, one who wants to be better than he has been in the past.
I loved watching their relationship develop. Though it's Charles getting to know his son that is supposedly the reason they spend time together, there is just as much time spent getting to know each other. It was great to see how Charles tried so hard to be the man he thought he should be. He really wanted Alice to be part of his life too, but couldn't see how she'd be interested in someone like him. At the same time, Alice was beginning to see the real man and wanting to be with him, but didn't think he'd want her. Even giving in to the heat between them didn't give either one the self-confidence that it could be permanent.
In the end, I really enjoyed seeing Charles and his siblings as he tried to explain his relationship with Alice to them. They could all see the truth that he was still blind to. When their relationship was exposed to the paparazzi things got a little rough. I loved Charles's big moment at the end, especially with his siblings as witnesses. It was sweet to see his vulnerability and how he pushed past his fears.