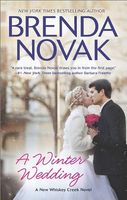 Series:
Whiskey Creek
(Book 9)
One Christmas can change your life…
Kyle Houseman believes he'll never find anyone he could love as much as Olivia Arnold, who's now married to his stepbrother. Not only did he lose her, he's been through one divorce and has no desire to go through another. He's determined to be extra careful about the next woman he gets involved with -- which is why he fights his attraction to the beautiful stranger who rents his farmhouse for the Christmas holiday.
Lourdes Bennett is a country music artist. She's only planning to stay in Whiskey Creek long enough to write the songs for her next album -- the album that's going to put her back on top. Her dreams don't include settling in a town even smaller than the one she escaped. But as she comes to know Kyle, she begins to wonder if she'd be making a terrible mistake to leave him behind…
It was great to finally read Kyle's story. Early in the series, he was one of my least favorite characters. He has been mooning after his ex-girlfriend for years, unable to get over the fact that she married his stepbrother. It has created some awkwardness within their group of family and friends. He made things worse by sleeping with his ex's sister, who ended up pregnant. He married her, but the marriage fell apart for various reasons. My opinion of him improved a bit during the last book, when he was the first of the group to show any kind of support to Phoenix. Now he's watching all his friends get married and wanting the same for himself, but he's wary of getting involved again.
Lourdes is a country music singer who has hit a bump in her career road. She has come to Whiskey Creek for some peace and quiet to work on the songs for her next album. Her manager/fiance was supposed to come with her, but he stayed back in Nashville. They've been having problems in their relationship and she suspects that there is something going on there. The house that she rented from Kyle ends up having heating problems, so she stays with Kyle instead.
I really enjoyed the buildup of their relationship. They quickly became friends, sharing some of the details of their rocky romantic lives. I liked the way that Kyle gave Lourdes the support she needed to deal with the end of her relationship, without giving her unwanted advice. At the same time, Lourdes offers her assistance in helping Kyle get his ex-wife Noelle off his back. Neither of them wants to admit to the attraction that has flared between them. Kyle has no intention of leaving Whiskey Creek, and he knows that Lourdes is only there for a little while, before she goes back to her life and career in Nashville. Lourdes grew up in a small town like Whiskey Creek and couldn't wait to leave it. She can't imagine settling down in one again. It was sweet to see how getting to know each other opened their eyes to possibilities, even if they were too wary to believe that it could happen. I especially loved the way that Kyle's growing feelings for Lourdes finally made him see that he had been hanging on to the memory of his feelings for Olivia rather than the feelings themselves. I loved seeing him ready to take a risk again. Lourdes was a tougher nut to crack. Her feelings were there, but she couldn't see a way to have it all. I hurt for Kyle and wanted to shake her. I loved seeing her mom finally get through to her. The ending was really sweet, and I loved Lourdes's big moment at Riley and Phoenix's wedding.
Kyle's ex-wife Noelle was an important character throughout the book. Kyle's continuing good treatment of her, in spite of how she uses him, shows a compassionate side to him. However, his guilty feelings over their marriage had him putting up with far more than he should have. The more I saw of Noelle, the less I liked her. She definitely gave off some really creepy stalkerish vibes. By the end, I felt a little bit sorry for her, as it was obvious that she needed some real help. Her final attack really put her over the top, and I loved seeing what Kyle did to bring resolution to it.