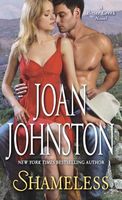 Series:
Bitter Creek
(Book 14)
HER SHAMEFUL PAST MAKES HER AN OUTCAST --
UNTIL A LONE WOLF TAKES HER INTO HIS HOME.
Scorned, pregnant, and facing a life without promise, Pippa Grayhawk is stunned when her father announces that they're leaving their home in Australia to take over his estranged father's sprawling Wyoming ranch. Drawn into bitter family rivalries and feeling like an interloper in her new home, Pippa rides out into the wilderness and meets an intriguing stranger and his pet wolf. The wolf doesn't scare her, but she's very much afraid to trust another man with her heart.
Devon Flynn knows all about going it alone. He lives in an isolated cabin, away from his domineering father and the scandal surrounding his family. Devon's attraction to Pippa is intoxicating and undeniable, but when he tries to get close, she's as wary as his once-wild wolf. Devon is willing to defy his father, and hers, to claim Pippa as his own, but winning this wounded, wonderful woman's love might be the greatest battle of all.
The continuing story of the Grayhawks and the Flynns. In the previous book,
Sinful
, Matt Grayhawk had moved his family from Australia back to his estranged father's ranch in Wyoming. The timing was good, in his opinion, because his twenty year old daughter is pregnant with a married man's baby and suffering from the small-minded attitudes of the locals. Moving to America will give her a fresh start.
But things aren't going smoothly. Matt's treatment of his half sisters, who were expecting the ranch to be theirs, is particularly nasty, and in turn they take out their frustrations on Pippa. Riding out to escape the tension, she meets Devon Flynn, a neighboring rancher and son of her grandfather's bitterest enemy. He provides a calm port in the turbulent storm of her life, and she accepts his offer of refuge at his home.
Devon is the youngest of the "Wild Flynns" and the one who avoids his family whenever possible. He has his own ranch a good distance from the rest of his family, where he works his land and cares for the injured animals he finds. He sees a lot of similarities between Pippa and those animals, and is determined to help her too.
Devon and Pippa are attracted to each other from the beginning, but there are reasons to fight it. Pippa is still recovering from her broken heart and is wary of trusting another man. She's also carrying that man's baby and believes that would ruin any chance of a relationship with Devon. On his side, Devon is related to Pippa, he's older than she is, and there is the feud between their families. But he can't deny what is happening between them.
They began by becoming friends, attempting to bury the feelings of attraction. Working together with his animals and around the ranch, they took the time to get to know each other. There were many things they had in common and they grew closer. The attraction was also burning hotter and becoming harder to fight. Pippa knows she has to tell Devon about her pregnancy before they move to the next step, but she's afraid of what his reaction would be.
At the same time, there is major drama going on with the rest of the family, with a lot of secrets being kept. Pippa grew up without her mother, believing that the woman is dead. Thanks to manipulation and lies by their parents, Matt and Jennie had been separated. Through some devious efforts, Matt had taken custody of Pippa and fled to Australia, leaving Jennie behind. When all the truth comes out, there are hurt and angry feelings on all sides, with Matt deserving a great deal of what he gets. In the meantime, Devon, who has often felt different and isolated from his family, learns some devastating news that explains a lot. This, on top of finding out about Pippa's pregnancy, throws him into turmoil of his own. Then there is something going on between Angus Flynn and King Grayhawk, where Angus has been plotting some serious revenge that has dire consequences for the entire Grayhawk family. At the end of the book, two family members are missing in a forest fire, and their fate is unknown.
As everything comes to a head, Devon and Pippa have to decide if they can move past their own fears to a life together. In spite of what a jerk he can be, I liked the way that Angus Flynn provided a good example to Devon as to what was possible. I also liked seeing the way that Pippa discovered that she had the strength of will to go after what she wanted.