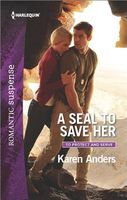 Series:
To Protect and Serve
(Book 5)
Running for their lives is imperative. Falling for each other is inevitable…
The searing pain of navy SEAL Dex "Machine" Kaczewski's injury is a constant reminder of a mission gone wrong. Only the compassionate words of visiting US senator Piper Jones, his best friend's sister, help to clear Dex's dark thoughts -- and make his heart beat faster. So when insurgents storm a military hospital and target Piper, her protection is the wounded SEAL's only priority.
As they flee for their lives in a hostile country, their mutual attraction smolders like the Afghan sun, but Piper's tragic past overshadows her surging desire. She tries to focus on keeping Dex alive and getting home safe. But until they know who wants Piper dead -- and why -- their only hope for survival is in each other's arms.
Excellent book, action filled and with an equally emotional romance. The story opens with Dex and his SEAL team ambushed on a mission, with three of his men killed and he and another one badly injured. Piper is currently serving out her husband's term as a US senator, after his death in an accident. When she learns of her brother's injuries, she immediately flies to Afghanistan to be with him. There she meets Dex, the man who saved her brother's life. There is an immediate connection between the two of them, but both try to ignore it. Besides being a SEAL, Dex is also Tyler's best friend, which means you don't get involved with his sister. On her part, Piper is still grieving the loss of her husband and unborn baby; getting involved with a man who has a dangerous career is just a bad idea.
Shortly after Tyler is evacuated to the hospital in Germany, the military hospital is attacked by insurgents. Dex is the only one there to protect Piper, who appears to be the target of the attack. Still dealing with his injuries, Dex and Piper go on the run. The intensity of the danger they are in, and the challenges presented by Dex's injuries, kept me riveted as they tried to escape their pursuers. Piper shows some amazing fortitude as she does what she must to help Dex as he has helped her. With no idea who they can trust, Dex and Piper rely on each other, and find themselves getting involved.
I loved these two together, with their lighthearted wordplay even in the middle of some very intense situations. But both of them are wary of getting their hearts involved as they have been hurt before. Piper devoted her life to her husband's career and carrying on for him after his death. The growing feelings she has for Dex show her that she has been hiding without realizing it. Dex is known as "Machine" for his intimidating focus on a mission, but there is a softer side of him that comes out when he's with Piper. He's fiercely protective of her, but can also be amazingly tender in his comforting of her when she needs it. One of the things I loved about their relationship was the frank way they talked about their feelings and their fears. I ached for Dex at the end, when it looked like Piper was going to let her fears win. I laughed out loud at the way Tyler got her moving, and the reactions at the other end.
The suspense of the story was fantastic. At the beginning, the ambush looked like an intelligence failure, but with the attack on Piper, the complications just continued to pile up. Each time Piper and Dex learned something new, it only added to the questions they had. As readers we also see that there are others working on the same questions. I was just waiting to see what would happen when the NCIS guys finally caught up with Piper and Dex and I was not disappointed. As the people behind the attacks got more desperate, the action became more intense. The final confrontation was fast paced with different motivations coming to light before it was all over.
I really loved the two NCIS agents, Austin and Derrick. Their interactions were great, as they had respect for each other professionally, but also were very good at poking at each other's sore spots. I really hope they get their own books, as I suspect their stories are quite fascinating.