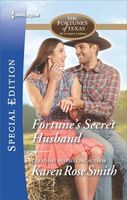 Series:
Fortunes of Texas: All Fortune's Children
(Book 3)
GUESS WHAT…WE'RE (STILL) MARRIED!
She was only seventeen when Chase Parker swept Lady Lucie Fortune Chesterfield off her royal feet. His oil magnate father cut their love affair short and forced them to annul their union…or so he thought. Ten years later, the wealthy Texas rancher uncovers a secret -- he's still wed to the one woman he's never been able to forget!
Lucie was always "the quiet one." While her mom and sister have been tailed mercilessly by the tabloids, she's maintained a low profile and a gracious image. No one has ever uncovered her deep, dark secret -- an impulsive teenage marriage. When Chase tracks her down, she still finds him hard to resist. And as they prepare to untie the wedding knot, Lucie wonders: What if their biggest mistake was saying goodbye?
Good second chance story. Lucie and Chase hadn't seen each other in ten years, ever since their impulsive and short-lived marriage. Pressure from Chase's father forced them to annul their marriage, but they never really forgot each other. Ten years later, Chase discovers that the annulment never went through, so he and Lucie are still married.
Lucie is in Austin, working with the Fortune Foundation, when Chase shows up to break the news. For the past ten years she has worked hard to stay out of the limelight, preserving her image as the quiet one in the family. The last thing she wants is for this news to come out and start a firestorm of scandal for the family.
Getting together to talk about fixing the problem brings another issue to the surface. Neither Chase or Lucie has forgotten the way they felt, and those feelings are still there. But their lives have moved in opposite directions, so what chance do they have to make it work now?
I really enjoyed seeing the development of this relationship. At first, both are determined that the annulment go through as quickly as possible. But having seen each other again, they suddenly find themselves taking any chance they have to spend time together. I was a bit bothered by Lucie's obsessive fear of being seen together, but it was fun to see some of the lengths she went to in order to hide who she was. I liked Chase's protectiveness, as he went along with whatever she felt she had to do, just so long as he could be with her. As they got to know each other again, their hearts grew closer, but their heads could only see what was keeping them apart.
There were several really terrific scenes that showed how right they were together. I loved seeing them work together at the church youth program, trying to pretend they didn't know each other, but constantly aware of where the other was. My favorite was when Lucie was babysitting her niece and Chase came over to be with her. I loved seeing him with the baby and how both of them felt like a family.
I liked the way that both Chase and Lucie came to see that neither had truly been ready for marriage all those years ago. Since that time, both have grown and matured into people who want to make the world a better place. The question becomes one of can they find a way to bring their worlds together. I loved the ending and how Lucie takes charge of her past and her future. Chase's big moment was sweet and romantic and I loved the timing.
There were a couple of mentions of the series theme dealing with the question of whether Gerald Robinson is actually a Fortune who walked away from his family and heritage. I'm looking forward to finding out more about it.