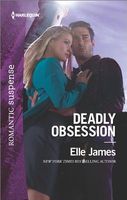 Series:
Devil's Shroud
(Book 5)
Real estate whiz Jillian Taylor thinks heroes and haunted houses are bogus. But when a series of strange events leaves her in danger, Stealth Ops Specialist Chance McCall is quick to the scene. Jillian can't resist the chemistry brewing between her and the sexy agent. But as she and Chance deconstruct her nightmares, someone becomes more desperate to keep those secrets from surfacing.
Chance knows there's more going on at the derelict Victorian manor than just ghosts -- just as he knows there's something about the blonde beauty he can't resist. If only he could help decipher the meaning of Jillian's tortured dreams…and keep her safe in his arms forever.
Very good book. I loved going back to Cape Churn. In this book, Chance McCall has arrived to serve as best man at his friend Nova's (
Deadly Liaisons
) wedding. He is also looking forward to a little down time after his latest mission. Jillian is the bride's best friend and maid of honor and wedding planner, as well as a busy real estate agent. Jillian has also just purchased a rundown Victorian house that she is renovating. The rumor is that it is haunted, but she doesn't believe in ghosts. But when strange things begin to happen, Chance is there to help her.
I enjoyed the relationship that built between Chance and Jillian. It got off to a slightly rocky start when Chance rescued her from a risky situation then proceeds to say some stupid things. Though she is reluctant to accept his help because of it, they manage to work together fairly well. Neither can deny that there is a strong attraction between them. As each incident happens, Chance becomes more determined to protect her. He's also tries to keep from getting too close, as he feels his PTSD makes him unsuitable for a relationship. Jillian is stubborn and independent, but finds herself willing to lean on Chance when she needs to. As she falls for him, she'd like to help him through his issues if only he would let her. Jillian also has some problems of her own to work through. Nearly losing Jillian at the end shows Chance that life without her was unthinkable and that he would find a way to overcome his problems. I loved the scene at Nova and Molly's wedding as the couples from the previous books made an appearance, and their assistance with helping Chance make a decision.
The suspense of the story is fantastic. The book begins with the story of one of the previous residents of Jillian's house. Julia is a little girl who disappears on her way home from school and reappears thirty days later with no memory of where she's been or what happened to her. She and her mother pack up and leave, with no one hearing from them again. Seventeen years later, Jillian has bought the house and is renovating it. Some people tell her it is haunted, and others that it isn't. When strange things start to happen, such as vandalism and accidents, she and Chance are determined to find out why and who. As they dig into the house's past, the attacks become more violent, leading them to believe that they are getting closer. The final confrontation reveals a secret that wasn't really a surprise, however, the truth of what really happened seventeen years earlier was unexpected. The scene on the cliff was intense. I loved Jillian ability to think under pressure and find a way to help Chance find her.