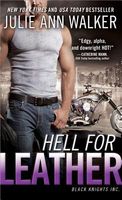 Series:
Black Knights Inc
(Book 6)
Black Knights Inc.-Behind the façade of their tricked-out motorcycle shop is an elite special ops team assigned the jobs too hot for anyone else to handle.
Only a crisis could persuade Delilah Fairchild to abandon her beloved biker bar, let alone ask Black Knights Inc. operator Bryan "Mac" McMillan for help. But her uncle has vanished into thin air, and sexy, surly Mac has the connections to help her find him. What the big, blue-eyed Texan has against her is a mystery... but when the bullets start to fly, Mac becomes her only hope of survival, and her only chance of finding her uncle alive.
Mac knows a thing or two about beautiful women- mainly that they can't be trusted. Throw in a ticking clock, a deadly homegrown terrorist, and some missing nuclear weapons, and a man just might find himself on the wrong end of the gun. But facing down danger with Delilah is one passion-filled thrill ride...
Another fun and exciting entry into the Black Knights Inc series. Delilah is the owner/bartender of the bar that the Knights go to. In the previous book,
Born Wild
, her bar was the scene of a shootout where one of her favorite customers died. Several months later she is still trying to deal with the memories of that day. When her uncle goes missing while visiting a friend, it's the Knights who she goes to for help. Also in the previous book, we get a glimpse of the fire between Mac and Delilah. It's obvious that there is something there, and in this book they finally have to face it.
I liked Delilah a lot. She's great as the tough talking owner of the bar, keeping her patrons in line. She also has a semi-secret life as a forensic accountant. In this book, the thing that really comes out is the way she feels about Mac. She has always been attracted to him and hasn't made any secret of it. But she is frustrated by the fact that he avoids her like the plague, treating her like she doesn't exist. I also liked Mac, though he did inspire the need to straighten out his way of thinking. He has been just as attracted to Delilah, but he has major trust issues when it comes to women, which means he refuses to get involved with her.
When they are thrown together by his need to protect her and their search for her uncle, the fire between them burns hotter. Mac is desperate to keep himself from giving in, and some of the conversations he has with himself are hysterical. His head tells him to keep his distance, but his body is all for getting a lot closer. But when he does, he then pulls back again, increasing Delilah's frustration. She has some equally funny mental conversations, as she reminds herself that going after someone who doesn't want her is just asking for emotional trouble. I loved seeing her realize that he really does want her (that scene outside Charlie's house was hot and funny), but that there is something holding him back. From that point she is determined to break through his resistance. I also enjoyed seeing his fellow Knights get in on the action, especially some of the advice he was given. I loved how it was Zoelner that filled her in on the problem, given that he's got problems of his own. I thoroughly enjoyed seeing Delilah take matters into her own hands and confront him on his home turf.
The suspense and action in the story was really good. The premise could be taken from today's headlines, with an American who steals classified information and sells it to the highest bidder. One result of that sale is a terrorist with a personal desire for revenge. He has kidnapped Delilah's uncle and his friend because of their knowledge, and plans to use Delilah as leverage to get her uncle to talk. The attempts to take Delilah and the way they are foiled by Mac and the others, makes some very exciting action. The sudden involvement of the CIA creates more complications for the team, as well as revealing some information critical to knowing why the two men were taken. The conflict between the CIA guys and the Knights creates some pretty funny moments. I loved seeing the way that the Knights ended up getting the upper hand during the final confrontation. The rescue was really exciting and brought it to a satisfying conclusion.
I loved seeing other members of the Knights. Ozzie has a larger part in this book as he gets out from behind his computers and participates with the others. His wholesale flirting is always fun, and I can't wait to see him end up with a woman of his own. Steady was there also, taking charge when Fido the dog was injured helping Delilah. The most visible was Dagan Zoelner, the ex-CIA agent, who has issues of his own that he is dealing with. One of those issues makes an appearance when the CIA gets involved in their operation. Zoelner and Chelsea obviously have a history as well as sparks that flew off the page. I can't wait to see their story. Ghost and Ali, from the first book
Hell on Wheels
, have a brief appearance that turns the Knights on their heads. I loved that scene and the follow on one later in the book, that show a completely different side to these guys.