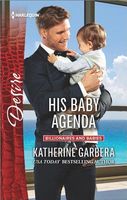 Series:
Sons of Privilege
(Book 4)
Billionaires and Babies
(Book 68)
A nanny. A single father. A love stronger than revenge?
Ten years ago, someone framed him for murder. Kingsley Buchanan lost everything, including Gabriella de la Cruz. Now the billionaire is back to settle old scores. But he must protect his child. Kingsley needs Gabi -- as a nanny for his son.
But Gabi is no longer a naive girl. She's a businesswoman with needs of her own. The only thing that hasn't changed: her hunger for Kingsley. But Gabi won't risk her heart on a man she can't trust -- unless she can convince him that love is more powerful than revenge…
Good second chance story with an underlying mystery. Ten years earlier, Gabi and King had been college sweethearts when he and his friend Hunter were accused of murder. In order to protect her, King said hurtful things, driving her away. Now King and Hunter are back in California, determined to find out the truth and take their revenge. King hopes that Gabi might remember something from that night, and hires her as nanny to his son to get her into his home.
Gabi has never forgotten her feelings for King, though she has tried to move on. She is nervous about having him back in her life, afraid of getting her heart broken again. But resisting King now is just as hard as it was before, and now there is the added appeal of his adorable son, Conner.
I liked King. At the beginning he comes across as a bit arrogant and way too focused on his revenge, but it quickly becomes obvious that there is a lot more to him. First, he is completely devoted to his son. Though he is haunted by what happened to him, his biggest motivation for clearing his name is so that Conner doesn't suffer because of it. Second, he feels guilty about the way he treated Gabi, even though he had done it to protect her. Part of the reason for getting her to live in is so that he can try to make amends.
I liked Gabi, too, though there were times when she frustrated me. Though devastated by her treatment by King, she had attempted to move on with her life. I liked her independence and the confidence she had built up in the years since she had last seen him. I really enjoyed the way that she stood up to him when he barged into her office. And though she tried to insist on keeping things professional, it didn't take long for her to realize that the attraction was too strong.
I really enjoyed seeing Gabi and King get to know each other as the adults they are now. The chemistry between them is still strong, but there is more than that. I liked that Gabi is still convinced of his innocence, and that she wants to help him with the investigation. King is appreciative, but he still wants to protect her from the consequences of being involved. She worries about his fixation on revenge and that it could have worse consequences that just letting it go. She got a better understanding of his motivations when she experienced some of the backlash of being involved with him, but she still wants him to give up on the idea of revenge, even if he discovers who the real culprit is. I hurt for them both as that need for revenge pushed them apart. The ending was sweet and romantic as King and his son join forces to show Gabi that love is stronger.
Conner is adorable and shown pretty realistically. He isn't perfect, and has age appropriate reactions and meltdowns. He is also the motivating factor for King's attempts to clear his name. I liked the way that it is through their relationships with him, that the softer sides of both King and Hunter are shown. I also liked what I saw of Hunter. He has quite a reputation with the ladies, but I get the feeling it is a front to hide his real emotions.
The mystery is an interesting one, with a theme taken right out of current headlines. With ten years behind them, both King and Hunter are now mature enough to pursue the truth. Though some new information is discovered it isn't enough and we are left waiting for Hunter's story to get answers.