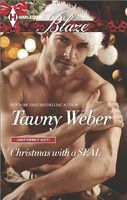 Series:
Sexy SEALs
(Book 6)
Uniformly Hot
(Book 48)
Subject: Navy SEAL Lieutenant Phillip Banks
Mission: Resist one saucy redhead's attempts to de-Scrooge him…and seduce him!
Silversmith Frankie Silvera has lost her creative mojo. And she knows how to get it back -- by getting her sexy on with a certain hot sailor. Just the thought of Phillip's hard, Navy-trained body against her, and everything goes molten. He's the "inspiration" Frankie needs for the holidays!
Navy SEAL Phillip Banks is the prince of protocol. But after his last mission went horribly off-course, all of that control has dissipated. Now he's at the mercy of one very determined female who is pulling out all the stops on Operation Christmas -- including red-hot lingerie and the promise of oh-so-wicked delights… But does giving in mean giving up everything he's worked for?
Fun book. It starts out with Lara and Dominic's wedding (
A SEAL's Fantasy
). Lara is Phillip's sister, so he is there at the wedding, even though he really doesn't want to be. They weren't close growing up and have only recently reconnected. Also at the wedding is Frankie, one of Lara's friends. Frankie is the granddaughter of the Banks' family housekeeper and had a crush on Phillip while growing up. She is a jewelry maker who is currently going through a creative dry spell, and thinks that some hot sex with her girlhood crush will loosen things up. He doesn't recognize her and she doesn't tell him who she is, and disappears the next morning before he wakes up.
Phillip's reputation in the SEAL team is that of always being in control, focused on the rules and the right way to do something. But his latest mission had something go terribly wrong and he is having a hard time dealing with it. He's recovered physically, but his emotions are all over the place. Plus his career has hit a bump and he's sent on temporary duty to teach at the Naval Academy while the other members of his team go after the people who captured him. He's stunned to find his one night stand (who he hasn't been able to forget) at his parents' home. He knows he should keep his distance, but the attraction is just as hot now as it was then.
Frankie hadn't expected to see Phillip again, especially so soon. It was definitely a shock for both of them. Though she'd had high hopes for the return of her creativity, it hadn't happened. Now that he's there, she's hoping that some more exposure will do the trick.
It was interesting to see these two very different people fall for each other. Phillip is controlled, rule-following, and focused. Frankie is creative, very emotional, and fun-loving. She is also pretty sensitive, and it doesn't take long for her to realize that he has something big eating at him. She also discovers pretty quickly that he doesn't talk about emotions. I ached for him at times because being back in his childhood home didn't bring back any happy memories for him - just the opposite. I enjoyed seeing Frankie drag him kicking and screaming into the holidays. And Phillip discovered that just being around Frankie helped ease his feelings of being out of control. Both of them do their best to avoid admitting that there is more between them than just sex. Frankie has herself convinced that there is no way that she is good enough for him. Phillip thinks he's too broken, plus marriage has never been in his career plan. I loved seeing his inner shock when he realizes that he's done something he never thought possible - fall in love. I wanted to shake Frankie when she allowed her own fears and insecurities keep her from accepting what he was offering. I grinned when Phillip got an unexpected pep talk from his sister, and I cheered when Frankie's friend Shayla read her the riot act for falling into the same trap she always does when things start to go well. The ending was really sweet, with Phillip really shining in the way that he understands Frankie and Frankie making sure that he knows that she loves him for himself and doesn't expect him to give up who he is for her.
There were several really emotional parts, but my favorite was when Castillo was filling him in on the results of the mission that Phillip wasn't allowed to participate in. Phillip was really blown away by what he learned.
I also loved the part with the leather dress. It was really fun to see Shayla try to show Frankie how she always sabotages herself. It was great to see how right she was about Phillip's reaction to the dress.