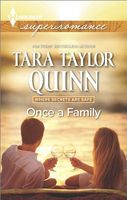 Series:
Where Secrets are Safe
(Book 2)
There's truth -- and then there's love
Sedona Campbell is an attorney who works with The Lemonade Stand, a unique women's shelter in California. She's called in to advise fifteen-year-old Tatum Malone, who claims she's been abused -- by her brother, not her boyfriend. It's Sedona's job to sort out truth from lie. She soon discovers that's not an easy task, especially once she meets Tanner Malone. Because despite herself, she's attracted to him.
Tanner has always protected his younger sister -- but she's lying about him. And he's falling for Sedona. Between them, maybe they can figure out why Tatum's doing this. Maybe then he and Sedona will be free to love each other….
Excellent book that had me hooked from the beginning and in tears at several points. The book opens with Tatum arriving at The Lemonade Stand women's shelter, claiming that her brother has abused her. Sedona, a lawyer who volunteers there, agrees to help her, but she has a feeling that there's more to the story than Tatum is saying. A feeling that is reinforced when she meets Tanner.
Tanner is the oldest of four and has always protected his brother and sisters from the time he was a child. Their mother was a drug addict and more, and care of his siblings often fell to him. By the time he was almost eighteen he had dropped out of school and had gained custody of them from their mother (the motivating event was heartbreaking). Since then he has done whatever needed to keep them safe and provided for. He doesn't know why Tatum is lying about him, but he's determined to find out.
Sedona volunteers at TLS for very personal reasons. She has gotten very good over the years at spotting abusers. Her gut reaction to Tanner is that he doesn't fit the profile, but she's also attracted to him which makes her doubt her instincts. So she makes a bargain with Tanner and Tatum, that she will spend time with them both in an attempt to learn the truth, if Tatum can stay at TLS in the meantime.
I really ached for Tanner during the whole book. He has devoted himself entirely to caring for his siblings, acting as parent since he was seventeen years old. He never had a good example to base his actions on, so has made some mistakes over the years. His brother left home for college and hasn't been back in ten years, barely staying in contact with the family. His sister Talia came close to following in their mother's footsteps, and has made choices that Tanner can't agree with, causing a rift between the two of them. Now he has this problem with Tatum. All the while, he can't help but feel somewhat alone, because he can't bring himself to trust anyone but himself.
I loved seeing the relationship develop between Tanner and Sedona. In the beginning of course, it was just so that she could try to discover the truth about the alleged abuse. But it quickly became obvious that the attraction was mutual, creating a conflict of interest for Sedona. She tries very hard to maintain a professional distance, but her heart hurts for the pain she sees him enduring. I liked how Tanner slowly opens up to Sedona about the things that led to where he is now, and how her support enables him to mend fences with his brother and other sister. Tanner learns that sometimes protecting his siblings means telling them the truth, rather than hiding the bad stuff. While Tanner and Sedona hit a rough patch in their relationship at the end, they were able to come together to save Tatum from a risky situation. I loved her part at the very end, in pushing Tanner and Sedona together.
Tatum was a very interesting character. As the youngest of the Malones, she had been exposed the least to their mother and her problems. Thanks to Tanner's protectiveness, she is somewhat sheltered and naive, which makes her a prime target for her boyfriend Del. In her own way, she was trying to find a way to help him, but she had no idea how he was using her. It made me mad that she made those accusations against Tanner, but she was also trying not to take it too far. When the truth about what drove her away finally came out, I understood her hurt and confusion. Having Del's subtle manipulation didn't help anything. The ending was nervewracking, with my fear that things were going to get much worse before they got better.