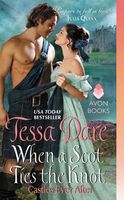 Series:
Castles Ever After
(Book 3)
On the cusp of her first London season, Miss Madeline Gracechurch was shy, pretty, and talented with a drawing pencil, but hopelessly awkward with gentlemen. She was certain to be a dismal failure on the London marriage mart. So Maddie did what generations of shy, awkward young ladies have done: she invented a sweetheart.
A Scottish sweetheart. One who was handsome and honorable and devoted to her, but conveniently never around. Maddie poured her heart into writing the imaginary Captain MacKenzie letter after letter . . . and by pretending to be devastated when he was (not really) killed in battle, she managed to avoid the pressures of London society entirely.
Until years later, when this kilted Highland lover of her imaginings shows up in the flesh. The real Captain Logan MacKenzie arrives on her doorstep -- handsome as anything, but not entirely honorable. He's wounded, jaded, in possession of her letters . . . and ready to make good on every promise Maddie never expected to keep.
This is the first book I've read by Tessa Dare, but it won't be the last. It was a fun book with a quirky heroine and a wounded hero. At sixteen, Maddie is set to be launched in Society, which terrifies her to no end. She is shy to the point of panic attacks and dreads the thought of all it entails. So instead, she invents a beau that she met and fell in love with, one who is a soldier away at war. To keep up the deception, she writes him letters, an effort that goes on for several years. Then, feeling guilty about the deception, she kills him off and goes off to mourn in private at the Scottish property she was given.
Happy in her solitude, with just her aunt and her pet lobsters, working as a nature illustrator Maddie is stunned when an all too real Logan MacKenzie shows up. Not only does he have the letters she wrote, he insists that she marry him for real. If she doesn't, he will give the letters to the scandal sheets.
Logan is a rough and gruff soldier who is accompanied by several of the men he served with. Though welcomed as heroes at war's end, they returned to Scotland to find their families dead or displaced by the same English whose war they just fought. Logan is determined to make a home for them, and the land of this English miss will do just fine. He doesn't expect to find someone very different than the spoiled debutante he believed her to be.
What happened next was a boatload of fun. Maddie is independent and spunky, and not about to cave in easily. If she is going to marry him, he'll have to give a little also. I enjoyed the way their relationship developed. Maddie feels at a disadvantage at first, because she revealed so much of herself in the letters she wrote. But as a keen observer of nature, it didn't take long for her to see past Logan's shell to the man underneath. Their conversations were fun, as both are very intelligent and quick witted. I loved the way that they used quotes from the letters to ease the way into some of their conversations.
Though they had agreed on a marriage of convenience, Maddie worried that she would fall in love with Logan. Logan is a man who has never known love and has no interest in it. All he claims to want is a place for him and his men. I loved seeing how Maddie starts to understand Logan and the fears he tries to hide. Though she really resists losing her heart to him, his kindness towards his men starts the crack in her determination. Then his understanding of her fear of crowds and the way he tries to help her finishes the job. I also loved the way she came to see his vulnerability. Though Logan initially came across as a less than pleasant man, I quickly changed my mind. I loved his devotion to his men and how determined he was to take care of them. It was fun to see his bewilderment as Maddie turned out to be different than he expected. I ached for him as more of his background was revealed, and I could see how much he needed Maddie's love. I also liked the way that he was so patient as the heat between them built. The ending was really sweet, as both of them had to let go of their fears before they could open their hearts to each other. I loved seeing Maddie take charge and go after what she wanted.
The secondary characters were really good also. I loved Maddie's aunt, especially at the end when she had so much to say about their choices. Each of Logan's men had their own personality and role in the story. I loved their advice to Logan when they thought he was having trouble with Maddie.