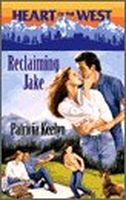 Series:
Heart of the West
(Book 16)
Lost Springs Ranch was famous for turning young mavericks into good men. So word that the ranch was in financial trouble sent a herd of loyal bachelors stampeding back to Wyoming -- to put themselves on the auction block!
IS THIS MAN FOR YOU?
NAME: Jake Merrill
AGE: 29
OCCUPATION: Mountain Rescue Squad Coordinator
IN FIVE WORDS: Rugged, Wild, Ready and Willing
BIGGEST ACHIEVEMENT: Finding lost children...alive.
WHERE CAN WE FIND YOU: In the mountains
IDEAL WOMAN: One who won't try to tie me down.
Ali Kendrick can't seem to put the past behind her -- a past that revolves around bachelor Jake Merrill. As teenagers, she and Jake had spent endless hours in each other's arms. Then he ran away, leaving her alone and pregnant. Now, Ali's got the chance to get Jake out of her system for good. But once Jake discovers he's got a daughter, will he be able to walk away again?
Good conclusion to the series. Jake is one of the "graduates" of Lost Springs Ranch and has come back to help with its bachelor auction fundraiser. He hadn't been back since he left, and the memories are both good and bad, many of them revolving around Ali. They had been very close as teens, but just when she thought they had made a commitment to each other, Jake disappeared. What he didn't know at the time was that she was pregnant.
Ali, though heartbroken at Jake's disappearance, went on with her life. She had her daughter and followed through on her dream to become a vet. Then she moved back to Licking Springs to join the local vet and raise her daughter. The one thing she hasn't been able to do is forget Jake and the way he made her feel. When she sees that he is part of the auction, she's determined to buy him and get him out of her system. She also realizes that she has to tell him about their daughter.
Jake doesn't know what Ali has in mind when she buys him, but he knows that he owes her an apology. What he doesn't expect is that the heat between them is just as strong as it had been years ago. Unfortunately for him, the issue keeping them apart is still the same. She comes from a good family with money and he is the son of an alcoholic mother with little to his name.
When Jake arrives to fulfill his obligation things are initially very awkward between him and Ali. Once he makes his apology it gets a little better. Ali is also feeling awkward because she quickly realizes that the things she felt for Jake are still there. I liked seeing the way that Jake worked to ease things between them as they went on a hike together. There were several moments where their attraction got the better of them, but they were able to pull back. After they returned to the cabin, it happened again and they gave in. All the time, Ali had in mind that she needed to tell him about Sam, but she didn't get to it. Then she got a call from her friend that Sam and two of her friends were missing from a campout, and Jake immediately stepped in to help.
Jake's job is in search and rescue and he is very good at it. He immediately joins the search parties and is the one to spot the kids from a helicopter. Because of weather conditions he ends up getting to them and staying with them until the storm passes. As soon as he sees Sam he realizes the truth and is stunned. Fortunately he realizes that he can't blame Ali for his not knowing. I loved his reaction and how he wanted to get to know her. It was great to see what he does to makes sure he has the time to do so.
With Jake staying on her property to get to know Sam, it also means that Ali is spending more time with him. It doesn't take long for her to realize that she is still in love with him. She is wary of trusting him though, worried that he would just up and leave, breaking her heart again. She does realize that he wouldn't disappear completely, because he wouldn't desert their daughter. Jake loves getting to know Sam and discovers that he loves being a father. He starts to dream of them becoming the family he's always wanted. Then Ali's parents arrive and he is quickly reminded of their differences.
I got a bit frustrated with Jake's downer view of himself. He has a stellar reputation in his rescue work, as is shown when he rescues the three kids. He is also a humble guy, and I really liked his reaction to the reward that one boy's father tried to give him. In the end, he had to decide if he really wanted what Ali and Sam were ready to give him. I really liked how he stood up to Ali's father. I loved the way that Ali saw him so clearly and pointed out what he was doing. I also liked the way she had a clear view of herself and made up her mind what she wanted and that she was going to go after it. I loved the solution that he came up with, and his actions at the end were really romantic.
I loved their daughter Sam. She was a tomboy with very definite ideas of what she did and didn't like. She also had quite an imagination, which is what got them into trouble in the first place. I really enjoyed her reaction to Jake, and her ideas of what should come next. It was great to see the way that she and Jake connected so quickly and how much alike they were.
The epilogue was fantastic and a great wrap up to the series. It was fun to see the lengths that Ali and Sam went to in order to make sure that Jake was there for it. I loved seeing what it meant for the ranch and for Jake and Ali.