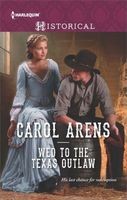 Series:
Walker Twins
(Book 2)
A bride to redeem an outlaw!
The only way Boone Walker can escape jail is by capturing the fearsome King brothers. But to do this he needs Melinda Winston's help and that means making her his wife!
After only being valued for her beauty, Melinda is delighted to find a man who sees her for who she truly is. Even as their mission leads them into ever greater danger, Boone proves to be courageous and honorable beyond measure, and Melinda determines to show her outlaw husband that he is worthy of redemption…
Good story of love, redemption, and figuring out who you really are. Trouble when he was younger set Boone on a different path than his brother Lantree (
Wed to the Montana Cowboy
). He has spent the years since then on the wrong side of the law, until he was captured and convicted of murder. Feeling that he deserves his sentence, even though he isn't actually guilty of murder, Boone is surprised when a woman and fancy lawyer show up to contest his conviction. He's even more surprised when he is offered his freedom in exchange for capturing an outlaw gang terrorizing a nearby town. The only catch is that he has to marry the woman in order to do it.
Melinda is the cousin of Lantree Walker's wife, and therefore considers Boone part of the family. She is determined to do whatever is necessary to return him to that family, even marry him. She's ready for some adventure and the chance to prove that she's more than just a pretty face.
Their initial meeting is pretty interesting. Walker is more than happy to go after the King brothers, but he doesn't want to take Melinda with him. He may be an outlaw, but he draws the line at putting an innocent woman in danger. He quickly discovers that though Melinda is beautiful, she's far from empty-headed, and she talks herself right into the mission. Melinda is determined to do what she thinks is right, and nothing he says will convince her otherwise.
I really liked Melinda. She threw herself into the role of Boone's wife wholeheartedly. She had been disposed to like him because of his brother, but it didn't take long for her to like him for himself. In spite of his outlaw status, she sees a kind and honorable man. I thoroughly enjoyed seeing her chip away at his resistance and his belief that he wasn't worthy of her. Boone was not as bad an outlaw as had been portrayed, though it is hard to convince him of that. When he is offered the chance to obtain his freedom, he is determined to earn it and change his life. I loved his attempts to protect Melinda from himself and what a losing battle it was. I also liked the fact that he came to respect her intelligence and determination, rather than just seeing how beautiful she was. I really loved the growth of their relationship, as Melinda's consistent belief and trust in Boone slowly began to wear away his certainty that there was no future for them.
Boone's mission to stop the Kings and their terrorizing of Jasper's Springs was an exciting thing to see. From the beginning he threw out the deception of being a vulnerable farmer and went in as himself. It was fun to see him put on the tough outlaw persona and declare that it was "his town" now. I loved the scene in the saloon when he faced them down, then turned around and gave the money back to the saloon owner. Each of the King brothers was nasty in his own way, and I wondered how Boone was going to stop them. There were several confrontations that increased the intensity of what was happening, all leading up to the last one. Boone's protectiveness had him determined to do it on his own, but in the end it was teamwork that did the job.
One of the best parts of the book was at the end, when the judge sets Boone free. Not only does he keep his promise, he goes above and beyond. But the icing on the cake is the scene with Melinda and the reporters, which had me laughing out loud. One of the biggest surprises of the book is the decision that Boone makes about what he wants to do with his future. I never saw that coming. The reunions of Melinda with her mother and Boone with his brother were emotional and heartwarming.
The secondary characters were great. My favorite was the lawyer, who went from uptight and disapproving of the marriage of Boone and Melinda, to their biggest supporter. I loved seeing his transformation to a true Westerner. The other people that came to Boone for protection soon learned that he was not at all what they expected, and I really liked seeing their fear turn to respect. I also loved the half wolf/half dog "Deputy" who reminded me of Rollo from Diana Gabaldon's Outlander series.