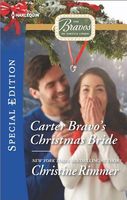 Series:
Bravos of Justice Creek
(Book 3)
Compatible? Check. Chemistry? Check. Love? Check…mate!
When Carter Bravo decides it's time to settle down this Christmas, the once-burned, no-strings-attached hunk chooses the one woman who isn't looking to be swept off her feet. Not only does his business partner and best buddy, Paige Kettleman, say yes -- the chemistry sizzling between them is further proof that she's his ideal mate.
Carter's no-nonsense proposition isn't exactly the romantic proposal Paige dreamed about under the mistletoe. After five years of building a business and sharing confidences, her dearest friend still has no idea how she really feels about him. If he did, he'd go running for the Colorado hills. Unless Paige can show Carter how to turn a test-run engagement into the real thing: a holiday wedding with all the trimmings -- including love!
Excellent friends to lovers story. Carter and Paige have been friends for eight years and business partners for five. He has seen his friends and relatives finding their perfect mates and getting married, and wants that for himself, but hasn't had any luck finding the right woman. A not-so-subtle push from his mother has him looking at Paige. Add a magazine quiz to that and suddenly both of them are looking at each other differently and wondering about the possibilities.
Paige is just about ready to tell Carter how she feels when he comes to her with a proposal of marriage. According to him, they're perfect for each other. They already have a deep friendship, and lots in common. They don't need all that love drama to be happy together. How about if they get engaged and see how it goes? Now Paige isn't sure what to do. Does she go ahead and accept a one-sided relationship? Tell him no? Or say yes and hope that he overcomes his aversion to love?
For all his obliviousness, I really liked Carter. He is a sweet guy who really cares about Paige and her sister Dawn. He just has a really bad hangup about love. He grew up with a mother who was known for her over-the-top emotional reactions in the name of love, and he wanted no part of that. Unfortunately for him, every woman he got involved with wanted at least some of that drama, which would then be the end of that relationship. Once he started looking at Paige in that way, he remembered what he had felt when he first met her, and decided to see if it was still there. The attraction is strong and he uses it to make his point about being together.
I also liked Paige. She had left college and come home to take care of her sister when their parents died. At the same time, the man she was involved with broke it off with her because he didn't want to be stuck taking care of Dawn. This has made Paige a bit cautious about trusting another man, but her friendship with Carter means everything to her. Realizing that she's in love with him throws her into a tailspin and she's not sure how to handle it. A businesslike marriage proposal from him isn't what she was looking for, but she can't deny the heat between them.
I loved seeing the two of them together. They know each other so well that they can tell when there is something wrong, and can usually talk it out. Paige's calmness is a good counterpoint to the drama of Carter's family life and keeps him grounded. Though Carter refuses to even consider the idea of love, his feelings for Paige show in the way he takes care of her and her sister. As their engagement goes on, it's obvious just how right they are for each other. But Carter hasn't told Paige about his mother's plan, fearing what her reaction will be, and the longer he waits the harder it gets. When it all blows up in his face, Carter succumbs to drama of his own and pushes her away, before realizing that love isn't a dirty word at all. Paige also realizes that she has made some mistakes of her own. The ending was really sweet and romantic.
I loved Paige's sister Dawn. They have a great relationship with each other and easily made Carter part of it. I really enjoyed seeing Dawn get involved in showing Paige and Carter that they belonged together. It was fun to see her reaction the morning she found him sneaking out of the house. I also loved the way that she was protective of Paige, but also understood Carter's feelings. Her part in getting them back together was just right.
I liked seeing other members of the Bravo family. Each one of them made sure that they told Carter that they knew he belonged with Paige. It was fun to see both he and Paige react to the idea that they were the last to realize they were in love with each other.