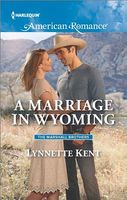 Series:
Marshall Brothers
(Book 3)
A COWBOY'S FAITH
Rancher Garrett Marshall's life revolves around the Circle M, his work as a minister and his camp for at-risk kids. Until Dr. Rachel Vale comes to town. There's an instant and powerful attraction between Garrett and the beautiful doctor…one he's convinced could lead to something wonderful.
Rachel can't fall for the cowboy minister, no matter how kind and ruggedly handsome he may be. His whole life is rooted in faith, and her world is guided by facts. One fact she can't deny -- she's falling for Garrett anyway. Will Rachel keep her distance, or will she finally let her heart lead her home?
The continuing adventures of the Circle M Ranch and the men who run it. All four of the brothers have committed to helping at-risk teens, as well as running the ranch and doing their regular jobs. Ford is a lawyer, Dylan is an artist, Garrett is a minister, and Wyatt is a rodeo cowboy. This is Garrett's story.
Garrett has been happy with his work as a minister and working with the teens. He's a little lonely sometimes, but knows that eventually he'll find the right woman. Then the new doctor comes to town and he feels as though he's been struck by lightning. He's certain that there is something great in store for them, but convincing Rachel isn't going to be easy.
Rachel has come back to Wyoming to fulfill a dream of providing medical care to an underserved area. When she meets Garrett she is immediately drawn to him, but resists the attraction because of what he does. She feels they are just too different for any relationship to work out.
I loved Garrett. He is the type of preacher who lives his beliefs without forcing them on the people around him. He has incredible patience with the teens that are staying on the ranch. It was really sweet to see the way he worried about Lena when she was diagnosed with diabetes and her father avoided all responsibility. He's also great with his family. I liked the way they treated him as just another brother most of the time, but also understood the importance of his work.
I liked Rachel, too, though I got frustrated with her at times. She had been raised by a single mother who had health problems, one of Rachel's motivations for becoming a doctor. Unfortunately, her mother was also easily led and fell in with a con man "faith healer" and died of her illness because she wouldn't go to a doctor. This soured Rachel on religion and she preferred to depend only on herself and scientific fact. Though she is attracted to Garrett, she thinks their outlooks are incompatible.
I really enjoyed the development of their relationship. Because she is involved in Lena's care, Rachel ends up spending a lot of time at the ranch. She tries really hard to keep Garrett at a distance, but he is equally determined to show her that they have more in common than she believes. There are some really sweet scenes of them together before she gets scared of what might happen and pushes him away. There were times when I thought Garrett was making real progress, and others when I despaired of Rachel ever giving them a chance.
I loved the way that the various townspeople got involved in trying to bring them together. Rachel had never really experienced the kind of care and support that makes up the town of Bison Creek. It was pretty sweet to see the way that they showed her that it was okay to accept help and lean on other people. But it was some very wise advice from one of her patients that made Rachel realize what was really important, along with some straight talk from Garrett. The ending was sweet and romantic, especially the part at Garrett's church.
I also loved seeing more of the teens at the ranch. They were realistically shown, especially with their sometimes oblivious attitudes. Marcos and Thomas were pretty typical teenage boys with their competitiveness with each other. Though they all certainly had their moments of idiocy, they all responded well to the Marshalls' care. I especially liked the scene at Rachel's welcome party. I also liked the realism of Lena's attitude about what had happened to her.