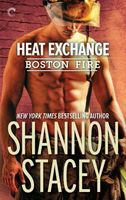 Series:
Boston Fire
(Book 1)
Lydia Kincaid left Boston to get away from the firefighting community -- but family is number one, and her father needs her help running the pub he bought when he retired. Soon, Lydia finds it hard to resist the familiar comfort and routine, and even harder to resist her brother's handsome friend Aidan.
Aidan Hunt is a firefighter because of the Kincaid family. He's had the hots for Lydia for years, but if ever a woman was off-limits to him, it's her. She's his mentor's daughter. His best friend's sister. The ex-wife of a fellow firefighter. But his plan to play it cool fails, and soon he and Lydia have crossed a line they can't uncross.
As flirtation turns into something more serious, Lydia knows she should be planning her escape. Being a firefighter's wife was the hardest thing she's ever done, and she doesn't know if she has the strength to do it again. Aidan can't imagine walking away from Boston Fire -- the job and the brotherhood are his life. But if he wants Lydia in it, he'll have to decide who's first in his heart.
Good start to the new series. Lydia left Boston two years earlier, desperately needing to get away from the firefighting community. Between her divorce from her cheating firefighter husband and worry over her firefighter brother, brother-in-law, and friends, she couldn't handle the stress any more. But life in New Hampshire isn't all that great either, and when her sister calls and asks for her help, Lydia reluctantly heads back to Boston. She easily slides back into her old routine, but something is a little different. Her younger brother's best friend Aidan is looking a lot more interesting than he did before she left.
Aidan has always been attracted to Lydia, but there are too many obstacles between them. She's his best friend's sister, his surrogate father's daughter, and the ex-wife of another firefighter. All big reasons to stay away from her. But the chemistry between them is undeniable, and soon they are finding ways to be together.
I liked both Aidan and Lydia, but both of them had some serious baggage to deal with. Lydia has made the decision that she will never get involved with another firefighter. Between growing up with them and then marrying one, she always felt that the brotherhood came first with them, with their families coming in second place. She wants to feel that she is more important to the man in her life. Aidan grew up feeling out of step with his own family, who has never understood his need to be a firefighter. Instead, he became a part of the Kincaid family, and his feelings for Lydia are in direct conflict with what he feels for them.
It was interesting to see how their relationship developed. At first, they were just indulging in the attraction for the short time that Lydia was going to be in Boston. Keeping it a secret wasn't too big a deal because it would only be for a little while. But it didn't take long for the guilty feelings to really start to get to Aidan. I hurt for him and the conflict he felt. He was really beginning to care for Lydia and wanted more with her, but was afraid that making things public would ruin his friendship with Scotty. He also knew her feelings about getting involved with a firefighter. Lydia also felt the strain of their deception. After all, it was her brother they were lying to. She kept trying to convince herself that it was just a fling, because she couldn't consider the idea of something permanent with him, but eventually she had to admit that she had fallen for him. I loved their connection and how they could be lighthearted and fun together, but also share more serious conversations.
I thought that Aidan was really a pretty sweet guy. He understands Lydia's hangups and tries his best to show her that he's not like her ex. His acceptance of her fears and his attempts to alleviate them were terrific, and showed just how much he wanted her to stay in his life. I sometimes got a bit frustrated with Lydia because of her tunnel vision regarding firefighters. She couldn't seem to see past Aidan being a firefighter to how right he was for her. She also couldn't see that she had changed in the time that she had been away from Boston, and was better able to deal with the firefighter life.
Of course, eventually they get found out and things get just as messy as they had feared. I understood Scotty's feelings, but I also agreed with Lydia that he shouldn't get to interfere in her relationship. I liked seeing the typical man way that Scotty and Aidan dealt with the issue. Even better was Scotty's sudden insight and what he told Aidan then. I really liked the soul searching that both Aidan and Lydia did that made them realize that they belonged together. The ending was really sweet and romantic.
There was also a secondary story involving Lydia's sister Ashley and her husband Danny. The two of them were dealing with a rough patch in their marriage because of communication issues. Ashley needs Danny to be willing to talk to her about his feelings, but goes about it in a way that he doesn't understand. Danny grew up with parents who didn't get along and spent a lot of time yelling at each other. This caused him to go the other way of keeping his emotions under tight control, which made Ashley doubt his feelings for her. I understood her frustration with his reticence, but I also got Danny's confusion about just what it was she wanted. I hurt for both of them as they tried to find their way back to each other.
Family was a big theme, as the Kincaids work through their issues. I really understood Lydia's frustration with her father and his attitude. She worked hard to keep the peace with him, especially since holding in her feelings wasn't something that was easy for her to do. She had the same kind of frustration with her brother. But in spite of those frustrations, the love among them all was obvious and the support was there when it was really needed. There was also time spent on Aidan's and Danny's relationships with their own families, and the effects those relationships had on their ways of dealing with their women. I'm looking forward to more books in the series, especially seeing whoever gets to deal with Scotty.