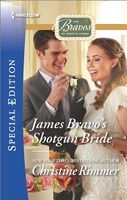 Series:
Bravos of Justice Creek
(Book 4)
JAMES BRAVO IS MARRYING HIS DREAM WOMAN. THERE'S JUST ONE CATCH…
Tied to a chair and staring down the barrel of a shotgun isn't how James Bravo planned on proposing to the woman he's secretly longed for for months. He also isn't the father of Addie Kenwright's unborn baby -- even if her grandfather thinks he is. James has never stolen so much as a kiss from the beautiful rancher…but all that changes when he and Addie say "I do."
Three times burned is enough to put a single woman off wedlock forever. Addie only agreed to this crazy scheme to appease her ailing grandpa. Now the mother-to-be can't get enough of the hunky, blue-eyed attorney. Are Addie and James ready to take the plunge for real and turn a temporary arrangement into the marriage of both their dreams?
Terrific romance with an unusual start. The book opens with James face-to-face with Addie's grandfather, who is holding a shotgun pointed at him. Levi is convinced that James is the father of Addie's baby and determined that James will do the right thing. James is confused because he's never even had the chance to kiss her, much less sleep with her, though he definitely wants to get to know her better. Things get even more interesting when Addie arrives home and sees what her grandfather is up to, and he has a heart attack while she's yelling at him.
Let me start out by saying that I loved Levi. He was quite the interesting character. He's very old-fashioned and when he discovers that Addie is pregnant, he zeroes in on the man that he sees making eyes at her. He is stubbornness personified and nothing Addie says will convince him otherwise. His use of his recovery to force the issue was quite a risk. Later on, I loved seeing him dealing with Lola, the live-in nurse, with an interesting twist at the end. He comes through for Addie with some well-timed advice.
James has been yearning after Addie for months. He's built a house on land right next to hers, and they frequently talk when she's out riding. I loved his calmness in the face of chaos during the shotgun incident and heart attack. It was his chance to be there for Addie when she needs him. I loved his attempt to convince Levi, and how he ended up telling Addie he's willing to go through with the wedding to help her out.
Addie complains about Levi's stubbornness, but she is right up there with him. I had to laugh at her frustration as she tried to convince him of the truth about her baby. She's had three serious boyfriends and each time she's ended up left behind. She no longer trusts herself to pick out a man who won't leave her brokenhearted. She's attracted to James, but wary of opening her heart again. She agrees to the marriage, but only a temporary one until her grandfather is better.
I loved the development of their relationship. The chemistry between them is strong, and they dive right into that, while still trying to protect their hearts. Over the next couple months they settle in to what seems like a terrific marriage. James is quick to realize that he wants to continue the marriage. I loved seeing him try to let Addie know how he feels. Addie also realizes that she loves him, but she her fears cause her to push him away. James shows amazing understanding and patience while he waits for her decision. Once she accepts her feelings and sees that she's the one running away, she can finally open her heart to James's love. I loved her way of showing him that she was ready to face the future with him, it was so adorable. I look forward to seeing their progress in future books.
*copy received in exchange for an honest review.