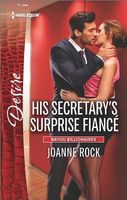 Series:
Bayou Billionaires
(Book 2)
Her boss wants her in his office -- and as his bride!
Adelaide Thibodeaux grew up with Dempsey Reynaud, and she's worked for him for years. But when the billionaire football coach springs a surprise engagement to keep her from resigning, it's a low blow. Just as she's ready to strike out on her own, she's stuck in a fake relationship with her boss, biding her time…
But soon Adelaide faces a second blow: she's actually falling for the man! Can a relationship founded on a lie become the real deal? Or will they fumble before the end zone -- and stay in the friend zone?
Good friends to lovers story. Dempsey and Addy have known each other since they were kids growing up in a poor part of New Orleans. Dempsey protected Addy from bullies and she helped him deal with the results of an addicted mother. Then when he was thirteen, his billionaire biological father found him and took him to live with his family. Though Dempsey tried to keep in touch with Addy, it was difficult, until he became an adult. Then he offered her a job as his assistant until she was ready to branch out on her own.
As the illegitimate brother, Dempsey has always felt that he had to work extra hard to earn his place in the family. After years working his way up, he is now the head coach of his family's pro football team. A big part of his success he attributes to the work Addy has done for him. So when she announces that she is quitting and finally going on to pursue her own dreams, he panics. He can't convince her to stay until the end of the season, so he announces their "engagement" during a press conference - without her consent. Unless she wants to create a scandal, she's stuck for the near future.
Addy has long had a dream of using her art degree and ability to create a line of sports accessories for women. She has been working on her business plan and is ready to go for it. She has been telling Dempsey her plans for weeks, but he has been completely ignoring her. She stunned when he once again ignores her and instead uses a fake engagement to keep her tied to him. Because she has spent her life trying to make him happy, she agrees to go along for a short time, but insists that she will end it in one month.
Addy has always had feelings for Dempsey, but knows nothing will come of them. Dempsey, on the other hand is pretty clueless. He dates empty headed women for short periods, with definite requirements of what he will and will not allow. While they had a great friendship when they were younger, after separating he became driven to succeed. Even after he hired Addy, his focus was on business and he didn't really treat her as the friend she was. Her plans to leave make him realize how much he depends on her, but he doesn't see how much deeper his feelings really are.
The development of the romance was interesting. Dempsey's reasons for his actions were totally selfish. It was fun to see him suddenly realize that Addy is a beautiful woman and that he is attracted to her. Still in his "all about me" mode, he decides that his next step is to get her into his bed. I thought that Addy had a lot more going for her. She has worked hard to get where she is, refusing to even consider letting Dempsey give her what she needs to start her business. She's always wanted him, but seeing the way he treats his women, prefers to keep their friendship intact. I loved seeing her call him out on his selfishness and how he slowly begins to see things from her point of view. The attraction between them is strong, and Addy has to decide if she wants to take what she can get from their fake relationship, knowing that she's likely to have her heart broken in the end. Meanwhile, Dempsey discovers that Addy is far different than the women that he's usually with, and he doesn't quite know how to deal with the way that makes him feel. By the time he figures it out, he's nearly destroyed their friendship. It was pretty sweet to see him find and embrace his inner romantic, as he tries to convince her to stay with him. I loved the ending and seeing him finally open his heart to her.
I liked seeing more of the other brothers also. They have a good, respectful relationship with each other, even if it isn't the touchy-feely sort. I liked seeing the changes in the oldest brother, Gervaise, since he fell in love in the first book,
His Pregnant Princess Bride
. Thanks to those changes, he is able to give Dempsey some much needed advice, though not without some good brotherly ridicule. I also liked their concern for their grandfather and his increasing memory problems.