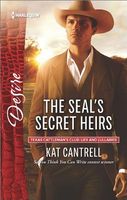 Series:
Texas Cattleman's Club: Lies and Lullabies
(Book 5)
A SEAL comes home to twins…and faces off with an old flame!
Returning to Royal, Texas, is an emotional minefield for Navy SEAL Kyle Wade. He never felt suited to his rich family's ranching life. But is he suited for fatherhood? He's about to find out -- because he's now the guardian to twins. Not only that -- his high school sweetheart is the babies' caseworker!
Grace Haines wants what's best for Kyle's kids -- even if that means standing in his way. But their chemistry is as explosive as it was years ago, and it might just be time to give this military man a second chance…
In a previous book,
Nanny Makes Three
, Kyle's brother Liam ends up taking care of Kyle's newborn twin daughters. Kyle is a SEAL, out of the country, and hasn't been back to Royal in ten years. He and Liam have rarely spoken in all that time. Now Kyle is back, stunned to find himself a father, but determined to do it right.
Kyle has received a medical discharge from the SEALs because of a career ending injury. Without the life that meant so much to him, he goes back to Royal and the ranch he is part owner of, but never felt part of. His arrival isn't exactly greeted warmly by Liam (a fist to the jaw), who informs him of his fatherhood. Kyle is shocked, but as soon as he sees the girls he is determined that he will be their father. He just has to convince his brother, and the girls' social worker, that he's up to the job. Problem is, that caseworker is his high school girlfriend, and they didn't exactly part on the best of terms.
Grace is surprised to see the guy who broke her heart back in Royal. Based on the past, she's not really inclined to believe that he is capable of being everything the girls need. She really needs to find a way to keep her personal feelings separate, but it's hard when she's never really gotten over him.
I loved Kyle. He was facing his past when he returned to the ranch and the life he had never wanted, and wasn't sure what the future held for him. His shock at discovering he was a father was understandable, but as soon as he saw the girls he was a goner. He was immediately determined to do whatever was necessary and that included working on the ranch. I loved the way that he dove right in to it, even though his experience was limited. His confrontation with the ranch manager showed that he wasn't going to stand back for anyone. He also has to face his feelings for Grace, especially since they seem to have returned with a vengeance. Kyle's biggest issue is that he doesn't express his feelings at all and never had. This had been the catalyst for their breakup years ago, and he still hasn't learned to do so.
I really liked Grace too. She has become an independent woman with a job she likes and is good at. Her biggest problem is that she has never really been able to move on from her relationship with Kyle. No other man has been able to measure up to her memories of him. Having him back in town brings the feelings back, but she can't trust that he isn't going to take off again.
I loved seeing Kyle take to fatherhood. He really was wonderful with the girls. Grace's frequent appearances to check up on him gave them both the chance to see that the heat between them was still there. Their relationship started to grow until the truth about the event that sent him running to join the SEALs came out. I have to say that I was really disappointed in both Grace and Liam over that episode, and I didn't blame Kyle for his anger over it, then and now. Both he and Grace had to admit to their mistakes before they could move on. I liked Kyle's conversation with Liam and how his problem is pointed out to him. A health crisis for one of the twins had everyone coming together and Kyle realizing that Royal is where he's meant to be. I loved his big moment at the end, which was sweet and romantic and just what Grace needed.
Also briefly mentioned in the book was the ongoing question of who is buying up land around Royal and why.