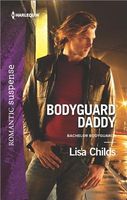 Series:
Bachelor Bodyguards
(Book 2)
The Bachelor Bodyguards of Payne Protection Agency are back--and this time, it's personal
Walking away from then-fiancee Amber Talsma was one of the hardest things sexy bodyguard Milek Kozminski ever had to do. But it was nothing compared to the shock of hearing she'd been killed in a car accident alongside the son Milek knew, deep down, was his.
Amber will do anything to keep her child safe. Which was why she had to fake their deaths--to evade the assailant who murdered her boss, then came after her. But now someone has found them. And when Milek learns the truth, he'll stop at nothing to protect his son...and the woman he never stopped loving.
Very good book, with excellent suspense from the beginning and a terrific second chance romance. At the end of the previous book,
His Christmas Assignment
, Milek learned that the ex-fiancee he thought was dead is actually alive and in hiding, along with their son. When he learns that they are in danger again, nothing will stop him from protecting them.
Milek and his brothers had been raised and trained by their father to follow in his footsteps as thieves, before he was caught and imprisoned. All of the boys had been hell-raisers and had gotten into plenty of trouble. But when their stepfather tried to assault their little sister, Milek and Garek had gone a little too far in protecting her and ended up going to prison for manslaughter. After getting out, Milek had gone to work for another criminal, working undercover, before going to work for Payne Protection as a bodyguard. Amber had been the best thing to happen to him, but he feared that his reputation would ruin her chances for advancement, so he broke off their engagement. He also denied that her son was his.
Amber had been heartbroken by Milek's abandonment, but went on with her life, raising their son by herself. Then her boss was murdered and she was attacked, so she took her son and went into hiding. When another attack happened she knew they'd been found and would have to run, but this time Milek found her before she could go. She can't avoid his determination to protect them.
I ached for both Milek and Amber, as neither had stopped loving the other. But Milek was so sure that he was bad for Amber and her future that he refused to believe that they could have a future together. Something else that hadn't changed was the attraction they had for each other, which burned as hot as ever. It was that passion that made Amber sure that Milek still cared, even if he refused to say so, and she was determined to find out why he had pushed her away. I loved the way that she tried to convince him that he was wrong to believe what others had said about him. I also loved seeing Milek fall under the spell of his little boy, and what a great dad he turned out to be.
The suspense of the story was fantastic. From the very beginning Milek and Nick Rus were determined to discover who was behind the attacks on Amber. The confrontations with the hit man were intense, but also puzzling, as he could have easily succeeded in killing her. There was also tension between Milek and Nick, because Nick was suspicious of both Milek and Amber. As the attacks continued and escalated, the other members of Payne Protection also got involved. It was interesting to see the dynamics among all the people, between suspicions, family tensions, and secrets being kept. Just when it looked like the danger was over, an unexpected twist showed that it wasn't. Milek really showed what he was made of as he saved Amber and Michael.