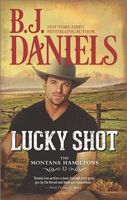 Series:
Montana Hamiltons
(Book 3)
He's determined to uncover the truth behind a decades-old disappearance -- even if it kills him
When hotshot reporter Max Malone gets a rare shot of Buckmaster Hamilton with a blonde woman near Beartooth, Montana, he chases down one of the senator's daughters to verify that the woman is his supposedly long-dead first wife. But Kat Hamilton won't give him the time of day, let alone any information about her mother.
With his tousled blond hair, sexy stubble and an old straw cowboy hat topping off his long, lean frame, Kat can just tell Max isn't used to female sources denying him anything. But when her own life is put in jeopardy, it's Max who comes to her rescue. Seems someone is prepared to kill to keep the past in the past. Kat can't deny she needs Max to find out what happened to her mother, but will getting closer and closer to each other lead them to the truth…or to danger?
Another exciting entry in the series. Max is one of the reporters that has been haunting the Hamiltons since Buckmaster Hamilton's first wife returned from the dead. When he snaps a picture of the two of them together, he goes to Kat Hamilton to confirm the identity of the woman in the picture. But Kat isn't cooperating. Kat has had enough of reporters pestering her for information about her mother, and Max especially rubs her the wrong way. But when he tells her of the information he has, she discovers that she wants the answers as much as he does.
I really liked Max. He's an investigative reporter with a sense of honor, not a gossip rag paparazzi. Though he first just wanted to use Kat for information, he soon found himself liking her as a woman. This made his investigation harder in a way, because he doesn't want to hurt Kat, but finding out the truth is important. I also really liked Kat. She is independent and stubborn. She may be one of the "Hamilton Girls" but she lives her life her own way. She knows she should be happy that her mother is alive and well, but she has questions that haven't been getting any answers until Max showed up.
I loved the sparks that flew between them from the beginning. Max really tries to resist because he has a rule about getting involved with someone who's part of a story he is working on, but finds himself too deeply drawn to her. I liked the way that he saw behind the surface toughness that she showed the rest of the world to the woman beneath. He had the patience to bring her out of her shell. He was also protective of her, as the danger of their investigation increased, and he was impressed by her ability to remain focused on their goal in the midst of that danger. Kat doesn't want to feel the things she does around Max. She's spent a lot of years protecting herself from the hurt she experienced before, but Max is working his way past her protective walls. Because he is a reporter, she is also extra wary of him at the beginning, but quickly finds herself trusting him. They get closer as the book goes on, but each is fully aware of their own issues that hold them back from opening up completely. I really loved their honest appraisal of their relationship at the end of the book, and the steps they took to see if it was real.
The mystery of Sarah Hamilton's return continues from the previous two books. The information that Max and Kat uncover indicate that she may have been part of a domestic terrorist group years earlier, but her lack of memory makes it impossible to confront her about it. The more information they uncover, the worse it looks for Sarah. There's also someone out there who doesn't like what they are doing and multiple attempts are made at stopping them. At the same time, local sheriff Frank Curry has been doing some investigating of his own, with his wife's help. The things he discovers, when added to what Max and Kat have found, bring up serious questions about just why Sarah reappeared now. Meanwhile, Buckmaster himself is caught between two women - his current wife, Angelica, and his first wife, Sarah. He has never stopped loving Sarah, but he also cares for Angelica, who has been beside him in his bid for the presidency. He is increasingly frustrated by her focus on digging up whatever dirt she can find on Sarah. Angelica's inquiries are stirring up trouble for her also. Buck can't seem to stay away from Sarah, who has apparently moved on with a neighboring rancher. A confrontation at the end of the book stops those who have been attacking Max and Kat, and though answers are apparently found to some of the questions about Sarah, Max and Kat are still suspicious. The book ends with a twist and a cliffhanger.