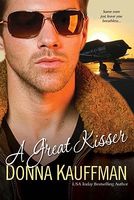 Buckle up. Enjoy the view.
Jake McKenna fixes planes, not people. Compared to an engine, humans are high-maintenance and unpredictable -- which is why Jake has zero interest in indulging his sister's request that he play tour guide and rent-a-date to her boss's visiting stepdaughter. Still, Lauren Matthews is nothing like the uptight, reed-skinny workaholic he expected. She's curvy -- deliciously so. Funny. Open. And convinced that there's more to her mother's hasty marriage to the local mayor than meets the eye.
Leaving her fast-track Washington career is the most impulsive thing Lauren has ever done -- right until the moment she arrives in Cedar Springs, Colorado. Everything about sexy, enigmatic pilot Jake tempts Lauren to unleash her inner bad girl and let him take her places she's never been...even as her snooping around town provokes some extremely hostile reactions. At this altitude, losing your head is easy. Trusting your heart can cost you everything...
Very good book with a good romance and a touch of suspense. Jake is a pilot/flight school owner who enjoys his bachelor status and handles his younger sister's dramatics on a regular basis. He's not too thrilled with her when she begs him to take her boss, the mayor's, stepdaughter out and show her around. He's too busy getting his WW2 fighter plane ready for a big race. But he gives in to his sister's pleas and discovers that the visitor is nothing like what he expected.
Lauren was heavily involved in her job as an aide to a Washington DC senator until her widowed mother eloped with a small town Colorado mayor. After six months of strained relations with her mom, Lauren has come to Cedar Springs to see what is really going on. She's also trying to figure out what she wants to do now that she has quit working for the senator. Jake is a distraction she really doesn't need, but a temptation too big to resist.
I loved the immediate connection between Jake and Lauren. Though she isn't his usual type, there is something about Lauren that grabs his attention and won't let go. It was pretty sweet to see the way that he went from "hell no" to "hell yes". Their conversation on the way from the airport to Cedar Springs was a beautiful example of getting to know each other. I loved Lauren's obvious interest in Jake and hearing about his plane and the racing and so on. Something about him must have also made her willing to trust him because she told him about quitting her job.
I liked Lauren's concern about her mother and how she is upset over their estrangement. She really wants to repair their relationship, but she's also worried because her mother's actions were so unlike the woman she knows. It was really wonderful to see the two of them talk honestly with each other. Lauren saw a different side to her mom and her mom was able to share her new outlook with Lauren. However, Lauren's acceptance of her mom's happiness didn't change her own feelings about the mayor.
I really enjoyed the development of the relationship between Jake and Lauren. Their quick connection shows them both that there is something there worth pursuing. Though Jake tries to pretend that he's a tough macho kind of dude, it's easy to see that there is a really romantic center to him. Likewise, Lauren has always been a city girl, and one who is big on planning out direction she wants her life to go. But starting with quitting her job, then deciding to run with her growing feelings for Jake, she discovers a joy to spontaneity. One of the things I loved most about the two of them was their willingness to talk honestly with each other. Their one brush with Jake holding back because of a promise made to his sister is dealt with pretty quickly because they don't resort to hurt feelings and silent treatments. I also enjoyed the increasing attraction between them as they indulge in steamy kisses and building tension.
One of the things that brought Jake and Lauren together was her investigation of the mayor. Jake has his own, similar, opinion of the man and he is more than willing to be Lauren's sounding board and assistant. There are a couple really great scenes where he serves as a distraction so that she can get information that she needs. As Lauren delves deeper into the mayor's background it becomes obvious that she was right to be concerned. Information from Jake's sister sets both Jake and Lauren onto new leads. Some really strange occurrences that seem harmless when looked at separately don't seem so when a possible link is discovered. The final confrontation was pretty intense, as Lauren ends up in some serious danger, but keeping her cool helps bring it to a satisfactory end. Jake plays a significant part in the resolution, as do his sister and Lauren's mom. One of the players was not a surprise, but the other hadn't been on my radar until near the end.
The epilogue was really great as Jake finally gets to race his plane and Ruby Jean embarks on a new direction for her career. With the mayor's unexpected exit from his post, his job is now vacant. I loved the twist involving his replacement, as I really didn't see that one coming. It was the perfect solution.
There were a few places where the story seemed to drag a little, but not enough to reduce my enjoyment of the book. Overall, I was hooked and unable to put it down until I finished it.