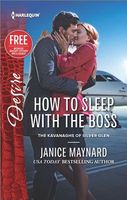 Series:
Kavanaghs of Silver Glen
(Book 6)
His new assistant isn't his type -- until they work in very close quarters!
Inexperienced but out of options, Libby Parkhurst accepts Patrick Kavanagh's job offer -- even though he's given it at his mother's request. Surely she can hide her attraction to the charming man she's trying to impress…
Patrick sees Libby as a family friend and hires her as a favor. But as their work brings them closer, he discovers the sensual woman she's become -- even before a makeover takes her from dowdy to dazzling! Suddenly his interest is no longer platonic. Long-term is off-limits, but taking her to bed? He's making that his top priority!
Very good book. Libby has come to Silver Glen to get her life together. She had been the pampered, sheltered daughter until her father was arrested for fraud and her mother committed suicide. She has no real world experience and knows she's only being offered this job because of Patrick's mother, but she is determined to do it well. She just has to try to ignore her attraction to him.
Patrick really doesn't want to hire Libby as he feels she is totally unsuited for the job, but he gives in to his mother's wishes. He's surprised when she handles the office and lodge parts well, but doesn't hold out high hopes for her outdoor skills. He is impressed by her determination.
Libby is fully aware of her limitations and works hard to learn the job. I loved seeing the way that she won over the woman she was temporarily replacing, and the advice she got not to let Patrick walk all over her. The upcoming overnight camping trip has her worried, but intent on getting through it.
I loved seeing Patrick have to eat his words during the camping trip. Libby doesn't complain and steps up to every challenge he lays down. The fire he sees in her has him looking at her as more than his mother's latest project. The scene in the mine brings their attraction roaring to the surface, but there are issues to face if they give in to it.
Patrick has long been determined that marriage is not in his future. He was married once, right out of high school, and it didn't end well. It left him resolved that he would never risk his heart like that again. Libby also has a relationship in her past that has caused her to doubt her judgment when it comes to men. But believing that they can keep their emotions out of it, they give in to the sparks flying between them. Neither expected it to be quite as intense as it turned out to be.
I loved the growing relationship between them. Their conversations were fun as Libby didn't hesitate to say what she thought. I liked Patrick's growing respect for Libby and the way she dealt with her past. There was also a terrific scene when she answers a question during Patrick's presentation on the executive retreat these people are going on. It really shows Patrick that he was wrong about her. But these changes also bring out feelings that Patrick isn't ready to face and he panics. He breaks things off in an especially cruel way, but doesn't get off unscathed. I loved her reaction: She slapped him hard and then said "You're a selfish, heartless jackass, Patrick Kavanagh...and an emotionally stunted shell of a man. I don't ever want to see you again...not even if your face is on a Wanted poster. Go to hell."
I loved seeing her stand up for herself and take charge like the strong person she is. It was even better seeing Patrick wallow in the misery he created for himself as he realized the truth of his feelings. It was pretty sweet to see him admitting to his idiocy before confessing his love. I did like his reaction to her own revelations from her past. The ending was really great with Patrick's presentation to his mother of his birthday "gift" to her.