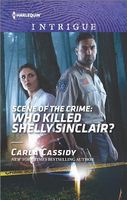 Series:
Scene of the Crime
(Book 12)
Sheriff Olivia Bradford has a corrupt police department to clean up and an unsolved murder case to crack. But her new employee, Daniel Carson, isn't some subordinate she can brush off. Unbeknownst to him, he fathered her young daughter five years ago. Now she needs him to get close enough to solve Shelly Sinclair's untimely death without letting him get too close to learn her secret.
Daniel never forgot Olivia or the sizzling night of passion they shared. But with a killer targeting her, he must keep his elusive boss alive if he's ever going to learn the truth…
Excellent conclusion to the mystery begun in
Scene of the Crime: Killer Cove
and continued in
Scene of the Crime: The Deputy's Proof
. In this book, Sheriff Olivia Bradford has been brought in to investigate and clean up the sheriff's department after the previous sheriff's arrest for corruption. There is also an unsolved murder case that was mishandled by that sheriff. But what has her really off balance is the presence of Deputy Daniel Carson, a man she had shared a passionate night with five years earlier and who is the father of her daughter, though he doesn't know it.
Daniel is surprised when the interim sheriff turns out to be the woman he hasn't been able to forget in five years. He's happy to see her again, and to discover that the heat between them is just as strong as it was back then. But they work together, which means a relationship, even short term, is not a good idea. Besides that, Daniel has always avoided anything that smacks of commitment, and Olivia no longer seems the type for a fling. Then, with the reopening of the Shelly Sinclair murder case, Olivia becomes a target and Daniel's protective instincts kick in.
From the moment they saw each other again, the attraction between them was intense. Olivia was wary because she didn't want Daniel to discover that he was her daughter Lily's father. She remembered him saying that he had no interest in marriage or children. But when he assigns himself as her protector after the first attack on her, keeping him separate from her family isn't possible. She still doesn't reveal the truth, even though Daniel and Lily connect right away. Seeing them together just pulls her even closer to him. Daniel has never wanted marriage and children for himself, after being caught between his parents during their bitter divorce. But being around Olivia, Lily and Olivia's mother Rose, he begins to realize how lonely his life has been. I loved seeing how much fun Lily and her "Deputy" had together.
I loved the development of the relationship between Olivia and Daniel. Because they are also working the murder case together, they spend a lot of time in each other's company. This gives them a chance to get to know each other in more depth than in their short previous encounter. Olivia tries hard to keep a professional relationship only, but that doesn't last too long. Though she gives in to the heat between them, she still tries to protect her heart by attempting to push him away afterwards. I loved how Daniel's simple protectiveness so quickly became more, though he resisted admitting it to himself. One of the things I liked best is that they were able to talk about what happened and address any awkwardness so that it didn't affect their working together. But in order to have the life each has started to envision, both of them are going to have to face their pasts. The final face off with the bad guy forces them to do just that.
The suspense of the reopening of the Sinclair murder case was fantastic. From the first threat against Olivia to the final confrontation, I could not put the book down. They basically had to start the investigation from scratch because of the problems with the initial one. Though we already know that one of the suspects, Bo, is innocent of the crime, there were enough other possibilities to keep me guessing. Each one has motive and opportunity, so the true culprit isn't known until the end. It ends with an interesting twist, and a person I had suspected earlier, then took off the list. It was an exciting conclusion and had me on the edge of my seat until it was over.
The epilogue was a nice wrap up with all three couples, plus Lily and Rose. I loved seeing what they are doing now that the mystery is solved. Lily was especially adorable and I loved seeing her participation in the toasts.