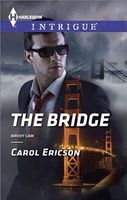 Series:
Brody Law
(Book 1)
His past is coming back to haunt him, and only one woman can bring this detective the redemption he needs
Under the Golden Gate, Elise Duran refused to be a serial killer's next victim. She was the first of the abducted to survive. And Detective Sean Brody was there to make sure a second chance wouldn't be necessary.
As the elusive murderer sends them messages, both personal and gruesome, the point becomes clear: no one can escape death. But Sean's presence can't be any stronger as he shadows Elise while on the job -- and off it -- proving she couldn't have asked for a better protector. Though beneath his cool exterior Sean hides a troublesome secret. One that's absolutely to die for…
Good mix of romance and suspense. Coming out of a nightclub, Elise is kidnapped by a serial killer, but manages to escape. Sean Brody is the detective assigned to her case, and is determined that the killer won't have a second chance. But it's more than protection that results, as the spunky kindergarten teacher brings some light to the darkness that haunts him.
I liked Elise. She may be a small town Montana girl, but she is smart and she is determined. She knows she is in trouble and she is more than happy to have the oh-so-attractive Sean protecting her. One of the things I really liked about her was the way that she supported Sean when the killer was making things look bad for him.
I also liked Sean. He has worked hard to make a place for himself with the police department, overcoming the disability of what had happened with his father. However, he will never be convinced that his father was guilty of the things he was accused of. He is disturbed when this new serial killer's MO closely matches that of the one twenty years earlier. There's something about Elise that sends his protective instincts into overdrive.
I enjoyed the growth of their relationship. Sean tries hard to maintain an emotional distance, but Elise quickly gets under his skin. As they get closer, he worries about what her reaction will be if she finds out about his possible link to the killer, so he tries to keep it a secret. Though surprised and a little upset when she finds out, I loved her support of him. The flames of their attraction continued to grow. When it was all over, it was obvious that they had come to know each other quite well, very quickly. The epilogue was pretty sweet.
The suspense of the story was fast paced and kept my attention throughout. Elise's escape started it out with a bang, and the tension quickly ramped up with the creepy message left for Sean at her house. The taunting messages for both of them added to the similarities to the previous case and left them both wondering if there was a connection. Elise and Sean scramble to piece together the messages the killer leaves for them, but the killer strikes once again and very close to home. When the final confrontation came, I was surprised by the identity as I didn't suspect that person at all. I loved Elise's calm and control and how she contributed to her own rescue.
Running through the story was Sean's belief in his father's innocence and desire to clear his name. Nothing was solved, but a couple more questions were raised that contributed to that belief. I will be interested to see how it turns out.