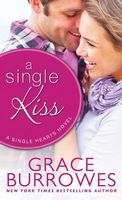 Series:
Sweetest Kisses
(Book 1)
A single kiss can change everything...
In the first novel of the Sweetest Kisses series, Hannah Stark has set her sights on corporate law to assure her a career of paperwork, predictability, and conservative suits. Contracts, finance, and the art of the deal sing to her, while the mess and misery of the courtroom do not. But her daughter needs to eat, so when Hannah is offered a temporary position in a small town firm's domestic relations department, she reluctantly accepts.
Trent Knightley is mightily drawn to his newest associate, though Hannah is as protective of her privacy as she is competent. When their friendship and attraction heat up, Hannah's secrets put her heart and Trent's hopes in double jeopardy.
Grace Burrowes's first foray into contemporary romance and it was fantastic. Terrific characters, intense emotions, and a really sweet romance made this an impossible to put down book. Hannah is a single mother and recent law school graduate. After working several temporary jobs, she has interviewed for a job in the corporate law department of the Knightley brothers' law firm. There's just one catch - they need her to work six months in the shorthanded family law department first. That is absolutely the last place she wants to be, but she'll tough it out for the short term. Trent is intrigued by his new associate. She is beautiful, but also very cool and private. She has made it clear that she's not happy about working family law, but he's quickly impressed by her attention to detail.
I loved Trent. He is first and foremost a gentleman, and very protective of the people who work for him. There are several instances over the first few days where he makes it plain to Hannah that he is not just her boss but a friend also. He is also overwhelmed with work right now, so he pairs Hannah with another lawyer in the department to learn the ropes. He is unaware that this other lawyer has been playing fast and loose with the rules, but Hannah experiences it firsthand. I loved Trent's reaction when he found out, but that also put Hannah by herself handling cases in court the next week.
I also loved Hannah. She is a strong woman who has been through a lot in her life so far. She grew up in the foster care system which is why she feels so strongly about family law. She experienced the worst of it from a foster child's perspective. She also has a seven year old daughter who she is very protective of. She has secrets from her past and guards her privacy zealously in order to protect herself and Grace. Though she hates working family law, she is very good at it, and there are some fantastic scenes of the cases she deals with.
The development of the relationship between Trent and Hannah is wonderful. Trent was hurt in the past and has believed that he is past any possibility of a new relationship. There is a vulnerable side of him that shows, as he worries that he is going to do something wrong with the things he starts to feel about Hannah. He also senses that she has secrets, and is sensitive enough not to badger her about them, but makes himself available for her to confide in when she's ready. He also has a gentle, but insistent way of getting her to do what he wants when he tries to take care of her. There are some really wonderful scenes of him showing his confidence in her courtroom skills, and the effect that confidence has on her. Hannah has never experienced a loving relationship of any kind, and Trent's treatment of her quickly starts to crumble the walls she has built around her heart. She is so used to depending only on herself that she doesn't quite know how to handle Trent's insistence on helping her, but she finds herself wanting to lean on him. For someone who feels that her people skills are somewhat lacking, I thought that she did pretty well with Trent. I loved the way that she would touch him, straighten his tie in an almost, but not quite motherly way. It was terrific to see her open her heart to Trent and start to trust him with her past. However, there are still some issues that pop up at the end that make her wonder if a future with Trent is possible. I loved the lengths that he went to in order to make their happy ending become real.
Throughout the story is a thread dealing with the lawyer that Hannah worked with at the beginning. His actions and deceptions had gotten him fired, which he blames on Hannah. He is determined to get revenge, and several times during the book we get his point of view. The things he does are really terrible and cause Hannah's worst fears to be realized. I loved the way that Trent and his brothers were there for Hannah and Grace and helped them through the crisis. The scene in the courtroom was wonderful, especially the testimony by Grace's friend Henry.
The two little girls in the story were adorable. Merle is Trent's daughter and Grace belongs to Hannah. The two girls are in the same class at school and become friends well before their parents do. Each girl is very protective and caring of their parent, and it was really sweet to see how strong those relationships are. They are also typical little girls with the imaginations to go with it. I loved their imaginary unicorns.
The secondary characters were all wonderful. Trent's two brothers were so realistic. I loved the way they all teased each other, but were also there to support each other when needed. It was really sweet to see the two brothers with their niece, and the way she had them wrapped around their fingers. Mac and James each have their own law specialty within their firm and I loved seeing how each is portrayed within that specialty. There is also a side story involving two judges who are friends of the Knightley brothers. I loved seeing the advice they are given. There is also a surprise twist involving these two judges and Hannah, which makes an especially satisfying ending to the book.
I also enjoyed the lawyer/family court setting. The realism of the cases shown was heartbreaking at times. I could really understand Hannah's stress over what she had to do, considering her history. I could also see Trent's happiness in doing his best to get his clients what they needed.