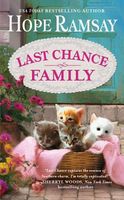 Series:
Last Chance
(Book 8)
Mike Taggart has always been willing to take a gamble. But these stakes are just way too high - there's no way he's prepared to become a legal guardian to his five-year-old niece. His only option is to head from Las Vegas to Last Chance to sort things out as quickly as possible. Problem is, he arrives to find an inconsolable little girl, her sick cat, and a gorgeous veterinarian he can't get out of his mind.
Charlene Polk has two talents: healing sick critters and falling in love with the wrong men. Mike has trouble written all over him, but she can't leave him in the lurch. And the more time she spends with the sexy high roller, the more she sees that this ready-made family is the best stroke of luck they've ever had . . .
Very good story of redemption and second chances. Mike is a professional gambler in Las Vegas when he finds out that his younger sister has died, leaving him as guardian of his five year old niece, Rainbow. He feels completely unqualified for the job, so tracks down the half-brother he hasn't seen since he was five, and is now a preacher in Last Chance. He feels that Tim would be a better father figure, so he picks up his niece and her cat and heads to Last Chance.
Unfortunately for him, his niece, already traumatized by her mother's death, isn't taking to him very well, nor is her cat. As soon as they arrive in Last Chance he looks up a vet for the cat, and meets Charlene. He's floored by her beauty, but not too happy with her judgmental attitude about the way he's taking care of Rainbow. Then his half-brother, Tim, isn't sure he believes what Mike is telling him. All Mike wants to do is find someone more suitable than he is to raise Rainbow and get back to his life.
But the town of Last Chance isn't going to make it that easy for him. Tim needs time to verify what Mike has told him, so he convinces Mike to stay in town for a couple weeks. He even finds an apartment for them, which just happens to be next door to Charlene's. Mike figures that Tim is going to need a mother for Rainbow and has fixated on Charlene as the perfect candidate, a fixation that seems to be confirmed by the town matchmaker.
I really liked Mike. Even though he seems to be trying to dump Rainbow off on his brother, it's because he doesn't believe that he is a fit guardian for her. He carries a lot of guilt over what he sees as his failure to protect Rainbow's mother, his little sister, when she was younger. It was pretty amusing to see his efforts at pushing Tim and Charlene together, especially considering his own attraction to her. I also loved seeing how sweet he really was with little Rainbow. He didn't think he would be a good father, but he was doing everything right with her (except for the cat).
I also liked Charlene. She was a bit judgmental at first, but once she got past that hurdle, she was wonderful. She, too, has some guilt dogging her from mistakes made when she was younger. She has had terrible luck in picking men, starting with her college boyfriend, who left her pregnant when her father offered to buy him off. Her biggest guilty feelings stem from that pregnancy and the pressure from her parents that she succumbed to. However, that same experience has made her much more empathetic with Rainbow, and I loved the way that she connected with the little girl. She's also very attracted to Mike, but sees him as just as disastrous a choice as the other men.
I loved seeing the relationship develop between them. At first it was just as friends, as Charlene did her best to help Mike through various crises. But the more time they spent together, the more the attraction grew. Mike desperately tried to resist, as he was shoving her toward his brother, but it became harder for him to picture them together. I loved the way that things came to a head at the bachelor auction, though Mike was still resisting the obvious. It took some straight talk from the family lawyer and Tim for Mike to finally see the truth. I loved his big moment at the end, in the rain, cat and all.
As always, the small town of Last Chance plays a big role in the romance. Being from Las Vegas, Mike has no experience with the way that small town people are so deeply involved in each other's lives, and it takes him awhile to get used to it. I loved how everyone had an opinion on his plan to match Tim and Charlene. I also loved support he got during the trouble at the lake, including Sheriff Rhodes and his actions. The bachelor auction was a riot, with some interesting things resulting from it. But best of all was the way they all pulled together at the end.