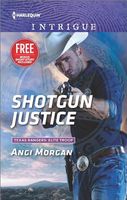 Series:
Texas Rangers: Elite Force
(Book 2)
DUTY, DESIRE AND WHERE TO DRAW THE LINE
As a Texas Ranger, it was Jesse Ryder's duty to protect her. As a man, it was all he could do to avoid the temptation of Avery Travis. The Snake Eyes Killer was on Avery's trail, but the independent deputy didn't want Jesse's help. And he couldn't blame her; he had walked away from her the night she'd offered him everything.
Avery knew Jesse would always think of her as his best friend's little sister. However, she was fully capable of taking care of herself…and knowing what and who she wanted. Their lives might be in jeopardy, but the true tragedy would be to never have one more chance with the sexy Ranger.
Good romance and excellent action and suspense. Jesse, Avery and her brother Garrison have been friends since they were kids. All three applied to be Rangers, but only Jesse and Garrison got in, leaving Avery angry and feeling on the outside. She left Austin to become a deputy in a small town, but not before trying to show Jesse just how she felt about him. He walked away, adding to her feelings of rejection. Now he's back in her life, offering protection she doesn't want.
The story opens with Jesse attempting to protect her from getting involved in her brother's trouble, an effort that is definitely not appreciated (though pretty amusing for the reader). Not long after, information becomes available that Avery is the target of a serial assassin and Jesse is sent to protect her. He knows that it isn't going to go over well, and he is right. First she gets her revenge for his previous actions, then she tries to convince him that she doesn't need his help.
The sparks are still there between them, but there are obstacles keeping them apart. First is the fact that Avery is Garrison's little sister and he had long ago promised to keep his hands off her. That hadn't worked so well when they were training to become Rangers, but opportunities to kiss were few and far between, and also forbidden as fraternization. Jesse has some guilty feelings over her rejection as a Ranger, as he feels it was his fault. Now there is also the distance between them as Austin and Dalhart are far apart. Jesse's protectiveness is also slamming hard against Avery's stubborn refusal to believe that she can't take care of herself against this killer. I did enjoy the development of their relationship. Avery starts to realize that it isn't weakness to share a burden with Jesse. She also doesn't give up on getting what she wants from him, even though she doesn't see it going anywhere. I did want to shake her a few times as she refused to see the truth. Jesse had the biggest battle with himself because he was so sure that his secret would destroy any feelings for him that she might have. However, he couldn't deny his feelings for her and his fears for her safety. The part with the shock collar was really intense and emphasized the depth of those feelings. He wasn't sure how he could convince her of his feelings. The ending was really good. I loved seeing the so confident Jesse a bit awkward and unsure but also sweet and romantic.
The suspense and action in the story was fantastic. The Snake Eyes killer was definitely creepy. His planning and carrying out of his attacks was so well done it was no wonder that no one had yet caught him. The sections that were told from his point of view gave insight into a mind that was truly frightening. Knowing that he was out there and after her, I thought that Avery took too many risks, overconfident in her ability to protect herself. The part with the shock collar opened up her eyes. Wondering how they were going to get through that kept me glued to the pages until they were free. Of course, that wasn't the end, and the intensity kept growing until the final confrontation. I loved Avery's confidence in Jesse finding her, and the way they worked together when he did. The resolution was definitely exciting.