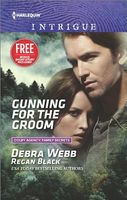 Series:
Colby Agency: Family Secrets
(Book 1)
As a former Interpol agent, private detective Aidan Abbot knows his way around covert operations at the highest levels. But nothing could have prepared him for his latest mission: infilitrating family dynamics. His new client, Francesca "Frankie" Leone, believes her late father, a US Army general, was framed for treason and has heartbreaking reason to suspect her own mother was behind it. Suddenly, Aidan is deep undercover as Frankie's fiancé, investigating his "future MIL" with unusual dinner-table access. But the closer he gets to the truth, the more Aidan wants to protect the woman he was never supposed to really fall for.
Excellent romance and fantastic suspense. While Frankie was recovering from injuries received in the war, her army general father was tried and convicted of treason, committing suicide shortly thereafter. Frankie refuses to believe her father is guilty and has been trying to investigate on her own. When she is given information that implicates her mother, she takes the information to family friend Victoria Colby-Camp and asks for help. She doesn't expect to have Aidan Abbott thrust on her, feeling more like a watchdog than a helper.
I loved the meeting between Frankie and Victoria. Both are strong, determined women, but Victoria has the benefit of greater experience and comes out on top of the battle of wills. Aidan is certain that he is going to have his work cut out for him, trying to keep Frankie from moving too fast. He doesn't expect to have her change the plan right off and have them pose as a couple to her mother. This is way out of his comfort zone, for personal reasons, but he can't convince her to drop the idea.
Frankie and Aidan strike sparks from the beginning. There is definitely attraction, but at the beginning there is some resentment also. Frankie doesn't like Aidan being the voice of reason and telling her that the evidence against her mother may be faked. She is desperate for answers and wants to charge in and confront her mother. Aidan doesn't like being forced into a fake engagement. He had been engaged before, and because of his work his fiancee had been targeted and killed. I loved the way he tried to get her to reconsider by playing up all the public affection they'd have to show. Unfortunately for him, it rather backfired.
The development of their relationship was fast but intense. Having to play the part almost 24/7, it all began to feel real. Aidan discovered that besides the physical attraction he felt for Frankie, he really admired the way her mind worked. Frankie also felt the heat and was afraid that it would be all too easy to fall for Aidan for real. I really loved seeing Aidan push the envelope with his playing up their romance and how Frankie would occasionally turn the tables on him. Frankie's mother also got into the act with her excitement over the engagement and her push for wedding planning. It was pretty funny to see Frankie's panic and Aidan's coolness as they each dealt with it. There was quite an amusing twist to these plans at the end.
The action and suspense were great, from Frankie's initial discovery to the very end. Her certainty that there was no way that her father could have committed treason was intensified by the information that she was given. I was a little disturbed by her willingness to believe the worst of her mother, especially considering that her memories of her childhood were so good. As she and Aidan got settled in Seattle, it was interesting to see their different approaches to the investigation. With each lead that they uncovered, more questions were raised. The attacks that they experience show that they are getting too close to the truth and that someone is determined to stop them. I was pretty sure who the person behind the attacks was, but the reasoning wasn't made clear until the end. The final confrontation was really intense and I was really afraid for Frankie. While the source and reason for the attacks was revealed, there are still unanswered questions about what really happened with Frankie's father. I can't wait for Sophia's story!