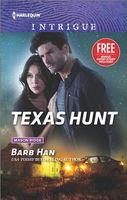 Series:
Mason Ridge
(Book 3)
She had a secret that could rock her hometown -- and unleash a killer
When Ryan Hunt receives a dead-of-night call for help from his childhood friend Lisa Moore, he knows the emergency is real. After barely surviving a brutal attack, Ryan is the only person Lisa trusts. Convinced the assault wasn't random, he realizes she is hiding a dark and potentially deadly secret.
Ryan can't ignore Lisa's silence any more than he can resist the Texas heat between them. He risks his life -- and heart -- to protect her. But if he can't get Lisa to confide in him, the secret could bring the town of Mason Ridge to its knees. And destroy the only woman he has ever loved.
Good book with a friends to lovers romance and good suspense. Ryan and Lisa have been friends since they were kids. There has also been a pull of attraction that both have ignored. When Lisa experiences a brutal attack, she calls Ryan, the only man she feels she can trust.
Lisa knows why she was attacked. She is keeping a secret that the other party doesn't want revealed and who is determined to make sure it never is. She is worried about the safety of her sister and infant nephew, especially after their father's death under suspicious circumstances. She has spent years being independent and depending on no one but herself, so leaning on Ryan isn't easy for her. She is also worried that telling him her secret will change the way he looks at her.
Ryan also has trust issues. His mother deserted him and his brother when they were young, leaving them with an abusive father. As a result, he has no intention of ever having a family of his own. His protective instincts kick in when Lisa asks for his help. It takes him a bit to get her to open up to him, but when she does he is horrified by what happened to her.
I loved seeing the relationship develop between them. Because they have been friends for so long, they already know each other pretty well. I liked the way that Ryan believed her immediately when she told him what had happened. It was wonderful to see how sensitive and patient he was with her fears. Lisa also knew Ryan well, and knew the effect that his mother's abandonment had on him. With the recent loss of her father, she tries to make Ryan see the importance of family. She is also as protective of him as he is of her, and worries that she has brought danger to him. I enjoyed seeing the attraction build between them and then give in to it. The depth of the connection surprises them, and has them both thinking about the future. There's a bit of conflict when Lisa does something behind his back, but it is resolved pretty quickly.
The action and suspense of the story is good. Lisa kept the secret of her assault for a long time because of who did it and her fear of his retaliation if she told. His father is also in trouble with the law, and he is desperate to make sure nothing else can damage the reputation of the family. The attacks on Lisa escalate, and Ryan is determined to protect her and bring the bad guy to justice. I liked how characters from previous books were also involved in this one, and how they supported each other. There is also ongoing action from the previous books, and a possible link to what is happening in this one. The final confrontation is intense, and I loved how Lisa fought back. There are a couple interesting twists in the story, and questions that are still unanswered. I'm looking forward to the next book.