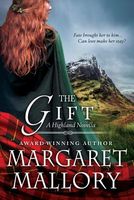 Series:
Return of the Highlanders
(Book .5)
Lily's well-honed sense for trouble tells her no healer is safe in London while gangs roam the city looking for witches to burn. In the dead of night, she escapes on a northbound ship, intending to return after Christmas celebrations calm the city's witch fever. But when Lily lands in the wilds of Scotland, her skills for surviving in the city can't save her.
Roderick MacDonald is on a secret mission for his chieftain when he finds a lass near death on a barren hillside and is forced to take her with him. Though this mysterious Sassenach may have The Gift his clan needs-and he burns with passion for her-he's determined to resist the enchantment she weaves on his scarred heart. When love blooms amidst the harsh winter beauty of the Highlands, will these two obstinate souls from different worlds accept the Yuletide gift?
Good book. Lily is a trained healer living in London when a bout of witch fever strikes the city. Her instincts tell her that it would be a good idea to get out of town for awhile so she dresses as a boy and stows away on a northbound ship, intending to visit a friend. Unfortunately, she is discovered and thrown off the ship near Edinburgh, far from where she intended to go. She sets off on foot, unaware of just how unprepared she is.
Roderick is on his way back home after a mission for his chief when he stumbles across Lily. There's no way he can just leave her, so he takes her along with him. Once he discovers that she's a healer, he wonders if she is the woman his grandmother predicted he would find. Knowing that the clan is in need of a healer, he's determined to convince her to return with him.
I loved the contrast between Lily and Roderick. She is a city woman who has never been outside London. She is determined to return and rebuild her business once the danger has passed. Roderick is a highlander who finds cities too crowded and noisy for his tastes and prefers his home in the Highlands. Neither expected the flare of attraction between them, but past hurts have them reluctant to trust each other.
While Roderick succeeds in convincing Lily to come home, he hasn't told her the whole truth behind his invitation. Discovering the truth adds to her stubborn determination to leave, but outside interference delays her departure. Roderick's grandmother lends a hand in giving them a chance to get to know each other and learn to trust. The ending was exciting and perfect for this couple.