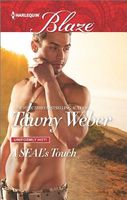 Series:
Sexy SEALs
(Book 12)
Uniformly Hot
(Book 59)
Subject: Navy SEAL Taylor Powell
Mission: Find a sexy fake girlfriend…with even sexier benefits!
Lieutenant Taylor "The Wizard" Powell has a reputation for getting out of tricky situations. Bad guys, bombs, weapons -- no problem. Finding a girlfriend in order to evade matchmaking friends? Not so easy. He's banking on contractor Cat Peres to help him out…not realizing his tomboy friend has a whole lot of sexy surprises hidden in her toolbelt.
Cat can't remember a time when Taylor wasn't the object of her hottest dreams -- so she can't help but agree to his plan. Their only rule? Friends, no matter what. Except the deliciously hot chemistry that ignites between them takes them both by surprise…and having nothing between them might just ruin everything.
Really good friends to lovers story. Taylor and Cat have been friends for a very long time. When Taylor comes home from his latest mission he discovers that the wives and girlfriends of his teammates have decided that it's time to find him a real woman instead of his usual "bimbo du jour". Desperate to find a decoy, he asks Cat to be his fake girlfriend to throw them off track.
Cat has been crushing on him for almost as long as she has known him, but realized very early that she wasn't his type, so has settled for friendship. Playing his girlfriend is like a dream come true - as long as it doesn't wreck their friendship.
I loved their first meeting after awhile of not seeing each other. Taylor is stunned to realize that Cat is no longer just his buddy but has turned into an amazingly hot woman. It sort of fries his brain cells, but leads him to ask her to be his fake date for the team beach party. It was fun to see tomboy Cat take her friend's advice and look like a woman rather than just one of the guys, and I loved the effect it had on Taylor. In order to cement the deception, Taylor was a lot more "hands on" that he usually would be with her. Neither expected the effect it had on them, and it especially freaked out Taylor. But neither could deny the strength of their attraction. Both of them thought they could indulge in it and still keep their friendship intact.
I loved seeing their relationship develop. Because they had known each other for so long, there was already a strong foundation of knowing each other. Spending time as a couple deepens that knowledge, but for Taylor it is a two-edged sword. He is trying to deal with some stress from the events of a previous mission and it isn't going so well. The only thing that relieves it is the time he spends with Cat, but he doesn't want to dump his troubles on her. Cat senses that there is something bothering him, but can't get him to open up to her. I loved seeing the way that she fit in with the women of the group, and the insight it gave her to what it was like to care for a SEAL. Things were looking pretty good for them until the night of the military ball. Then Taylor's fears came crashing down on him and he pushed away the one person who could help him most. I loved Cat's reaction and how her strength enabled her to lay some truths on him.
It was wonderful to see how that made both of them take a good look at their lives. Thanks to help from their friends, each one saw things they'd refused to face before. Dealing with those made it possible to see what they could have together. I loved the ending as they were finally able to share it all. I'm looking forward to seeing more of them in future books.
Another bonus of a long running series like this is the opportunity to see characters from previous books. I loved seeing various couples and how they are doing now. I also loved the tight friendships and the support that was always there when it was needed. It was also pretty sweet to see how the SEALs' ladies took to Cat but were also watching out for Taylor. That conversation was pretty amusing. I also loved the appearance of Taylor's three buddies at the end and how they helped straighten him out in their own unique way.