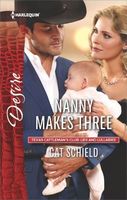 Series:
Texas Cattleman's Club: Lies and Lullabies
(Book 3)
This rich Texas rancher has his hands full with an abandoned baby…and her irresistible nanny!
Mistaken for the father of his twin brother's child, Liam Wade takes in his fussy infant niece and needs a nanny fast. Hadley Stratton knows all about Liam's reputation with the ladies, and really doesn't believe that the baby isn't his! But as she settles into her role, she begins to see the man beneath the Stetson. And when they're stranded together during a storm, she really gets to know him. Is she just the latest woman to fall for Liam's charms, or are this rich rancher's single days numbered?
Good book. After the death of his grandfather Liam gave up his playboy lifestyle and devoted his time to the ranch. When a woman showed up at the ranch with a newborn baby claiming it was his, he knew otherwise. However, he was pretty sure that the baby belonged to his twin brother, so he accepted custody of little Maggie. But he's over his head with her, so he hires a nanny to help him out. He's surprised when it turns out to be Hadley. Hadley remembers Liam from when they were both competing in rodeos. She'd had quite a crush on him back then, but life intervened and she hasn't seen him in ten years. Now that she's working for him, she can't let herself get attached.
I liked Hadley, but I did get a bit frustrated with her at times. She has a habit of taking responsibility for things that aren't her fault. One of those things was an accident that left her best friend at the time confined to a wheelchair. Hadley has been punishing herself for ten years, mainly by giving up her horse and riding that she loved so much. Early on in her nannying career she had also fallen for her employer and his children, only to have her heart broken when he went back to his ex-wife. She blamed herself for not being enough for him.
I liked Liam. He had already decided that the playboy lifestyle was getting old and had settled in to work the ranch. He wants to find the woman for him, but hasn't made the time to do so. When Hadley shows up to be Maggie's nanny, he's reminded of how much he had liked her back when they were teenagers, and wants to get to know her now. I also loved the way that he was so determined to do what was right for Maggie.
I liked the development of the relationship between Liam and Hadley. He realizes very early that she is the woman he wants, but also that it will take some work to convince her, especially since she still sees him as the womanizer he used to be. As they spend time together taking care of Maggie, Hadley begins to see the man that Liam has become. Getting snowed in together while on a trip gives them both a chance to see what could be, but both have issues from their pasts to deal with before they can move on together.
Both Liam and Hadley have to take hard looks at themselves and the choices they've made. I loved the way that Liam faced up to how his mother's abandonment affected all of his relationships up until he got involved with Hadley, and nearly ruined that one too. His moment of self awareness was really moving. I also liked seeing the way that Hadley realized how badly she had sabotaged her own life, and that it would be up to her to fix it. I loved the ending and seeing them both finally able to open up completely and let the other in.
The only real problem I had is that Liam's brother Kyle still doesn't know about Maggie. I really want to know what's going to happen when he does.