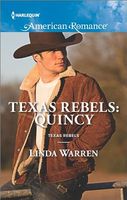 Series:
Texas Rebels
(Book 3)
A Heart Divided
Quincy Rebel lives by a strict code of honor. Family first. Which means Jenny Rose Walker, his younger brother's ex-girlfriend, will never know how deeply and devotedly he loves her. The woman of his dreams is off-limits…until his brother gets engaged to someone else.
Jenny is ready to sever all ties with the ranching clan who has been like a second family to her. Even if it means giving up working with her best friend, Quincy, who she helps train paint horses. Quincy…the tall, masculine Rebel who's always been there for her. Is she developing feelings for him? Or are they headed for a rebound romance that will leave them both brokenhearted?
Good story. Quincy has been in love with Jenny for years, but she is his brother's on again off again girlfriend, so she is off limits to him, so he loves in silence. Then Paxton gets engaged to someone else and Quincy is ready to see if there's something there for him. Jenny and Paxton have been dating since high school, so she is devastated when she learns that Paxton has found someone else. It hurts too much to even continue working with Quincy and his horses.
This was an interesting love triangle. Quincy has loved Jenny for years, but has limited himself to friendship. He's been there for Jenny whenever she's been on the outs with Paxton. Jenny has clung to her relationship with Paxton, even when he hurts her by being with other women. And Paxton comes back to Jenny whenever his latest fling doesn't work out.
I loved Quincy. He's always looking out for the people he cares about. He's frustrated by the way Paxton treats Jenny, but he won't break the "bro-code" and go after his brother's girl. He's furious when he hears about Paxton's engagement and discovers that he hadn't had the decency to tell Jenny in person. He's also hopeful that with Paxton out of the way, Jenny will see how much he cares for her. I loved seeing how he was always there when she needed him.
I really didn't like Paxton. He's very immature and selfish. He doesn't see anything wrong with chasing other women while he's out rodeoing. He always manages to charm Jenny into taking him back, and then turns around and does it again. He's also too much of a coward to do the right thing and tell Jenny about his engagement himself. Even his engagement seems to be for all the wrong reasons. The only thing he does right, when he finally does talk to her face to face, is to explain to Jenny that what they had had for the last several years wasn't a relationship but a friendship.
I was a bit conflicted about Jenny. I couldn't understand why she kept taking Paxton back over and over again, when someone as wonderful as Quincy was right there. I liked her a little more as she woke up to the truth about her feelings for Paxton and why she had stuck with him for so long.
I loved seeing how Jenny finally started to realize that Quincy was more than a friend. But after deluding herself for so long about her feelings for Paxton, she was afraid that she was just using Quincy to feel better. There was a strain on their growing relationship though, because Quincy wasn't really sure that she was over Paxton. He was worried because of the way that Paxton still called her and was afraid that Jenny would go back to him. Both of them had some work to do in gaining the confidence in themselves that would allow them to believe in the love they shared. I loved the way they came together at the end.