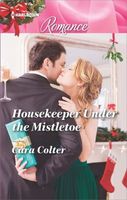 Maid for the millionaire?
Angelica Witherspoon is hopeful that a housekeeping job is the fresh start she's been looking for. Until she arrives at the remote lakeside mansion full of enthusiasm and has the door slammed in her face!
Reclusive millionaire Jefferson Stone clearly stated chatterboxes need not apply, but Angelica is tenacious, and reluctantly he gives her a trial. Recently widowed, Jefferson has cut himself off from the world, but Angelica's warmth and stunning smile are tempting him to step out of the shadows and sweep her under the mistletoe!
Good redemption story. Angie is on the run from a stalker and is at the end of her resources. When she sees an ad for a housekeeper in a remote mansion it seems like the perfect solution. Unfortunately, her first encounter with her potential employer gets the door slammed in her face. But she is desperate and persistent, and convinces him to hire her.
Jefferson has shut himself off from the world ever since the death of his wife. He blames himself for what happened to her. He needs someone to get his house into shape for a photo shoot, but he doesn't want to interact with anyone. His first impression of Angie is that she's too young and cheerful. But he sees something in her eyes that tells him she needs help, and against his better judgment he hires her.
I hurt for Angie and all she'd been through. Left by her fiance because she was "boring", then stalked by a coworker, all she wants is a place where she can feel safe. I loved her strength in taking her safety into her own hands, and her determination to get the job. The pain she has suffered made her empathetic to Jefferson and his losses, and her nurturing personality made her want to make things better for him.
I loved her first day on the job and their conversation about her grocery list and how he does his shopping. It tells a great deal about why he eats the way he does. Though he sounds put out that he has to take her with him to shop, there's a feeling that maybe he doesn't mind as much as he says. Their journey back from town, across the lake, is interrupted by an intense summer storm. When they stop to wait out the storm, something changes between them. I loved the scene as they eat the melting ice cream, and how it emphasizes the electricity growing between them. It also lowers their defenses a bit, and Angie tells him what has driven her to his door. His own innate protectiveness kicks in, as he tells her she can stay as long as she needs to. A kiss of thanks rocks both their worlds, and Jefferson is hit with feelings he doesn't want to have.
There's a bit of avoidance that goes on over the next few days, as Angie works on the house and Jefferson hides in his office. That doesn't last long as he is slowly drawn out of his shell and begins to live again. The scene with the spider was unexpected and great fun. Angie also opens up to him and in doing so realizes the truth of her feelings. But in confessing those feelings to him, Jefferson is reminded of why he had closed himself off. His pain and hers as he rejects her love is intense, and nothing she says will change his mind.
Angie also sees that before she can convince him, she has to confront her own fears. I loved the strength and courage that it took for her to do so, and the satisfaction she got from doing it. I loved her return to him, and how she got there as he was facing some of his own demons. The ending was sweet as she returned to him and he finally saw what could be.
I really liked the epilogue and that it took place several years later. Seeing the changes in Jefferson's life and the happiness they share made a very satisfying ending.