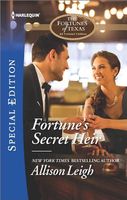 Series:
Fortunes of Texas: All Fortune's Children
(Book 1)
A Change In Fortune
Cool, confident and in control: that's Ben Robinson, the billionaire COO of Robinson Tech. With his imposing height and sharp blue eyes, he can convince anyone to do anything, but suddenly he feels like a fraud. The handsome Texan has just discovered his entire life has been a lie.
With the news that his father might actually be a long-lost -- and very prodigal -- Fortune, Ben trains his laser focus on determining the truth. He persuades sweet, earnest Ella Thomas to help him in his research; no one would ever suspect the part-time college student of subterfuge. Ella is sensitive and highly intuitive…in other words, Ben's total opposite. And as she digs for his Fortune roots, she may also uncover the billionaire's long-shuttered heart…
Great beginning to this year's Fortunes series. In the third book of the previous series
Mendoza's Secret Fortune
, it was revealed that there may be more Fortunes out there, with more information revealed in the epilogue of
Fortune's June Bride
. Now the Robinson siblings are dealing with the fact that their father has lied to them their whole lives, and that he is a Fortune. This hits Ben really hard, especially when he discovers that his father has also had multiple affairs and that there may be more siblings out there.
The book begins with Ben confronting the matriarch of the Fortune family with what he knows in the middle of a big party. Though he isn't looking for any part of the Fortune wealth, he does want their acknowledgment. While at the party, Ben meets Ella, with whom he has an instant connection. He hires her to do the research to help him find the truth of the connection and also to help him track down any siblings that he might have.
Ella works various temp jobs to earn the money she needs to complete her accounting degree. She lives at home with her mother and her sixteen year old brother, who has cerebral palsy. She is attracted to Ben from the moment she meets him, but doesn't see any future in it.
Ben is definitely obsessed with his mission, but also finds himself increasingly drawn to Ella. Though he could have taken the final steps in two of the searches by himself, instead he wants Ella with him. He had suffered a devastating blow a few months earlier, but spending time with her has lessened the pain. Their trip to Boston was great. Ben is focused on finding out if their quarry is one of his unknown siblings, but also discovers that Ella is starting to be more than just a research assistant. It was really sweet to see him get into showing her around Boston. He also found himself feeling very possessive of her when another man appeared to be flirting with her. He made a bit of an idiot out of himself, but it was pretty amusing. Ben also makes the effort to get to know her family. I loved her stunned surprise when he showed up at her brother's chess match, and how wonderful he was with her brother.
Ella has also realized that she is in danger of falling for Ben and is sure to get her heart broken. Even though he keeps telling her that he is not a nice person, and that he is selfish to the extreme, she doesn't see him that way. She sees the way that he worries about other people, how he wants to make sure any unknown siblings are okay, and how he looks after her in London, and knows that there is really a good and caring man under the gruff exterior. Giving in to the attraction between them is something she can't resist. But things come crashing down when she overhears him saying something that makes her believe that he doesn't care.
Ben has to face his fears from the past before he can let himself believe that he could have a future with Ella by his side. He fears that he has ruined everything when she stops coming to work. I loved his big moment at the end, as he exposes his vulnerabilities to her and speaks from his heart. It is all very intense and romantic, though there is a bit of comic relief provided by her brother.
I'm looking forward to the rest of the series. Finding out more about why their father walked away from his heritage should be very interesting. I'm also looking forward to seeing what progress is made in the search for more siblings.