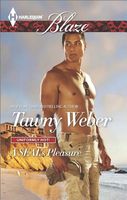 Series:
Sexy SEALs
(Book 9)
Uniformly Hot
(Book 54)
Subject: Navy SEAL Gabriel Thorne
Mission: Initiate Operation: Romance…and prove that one night isn't enough!
Explosives expert and Navy SEAL Gabriel "Romeo" Thorne makes his living tempting fate. Pushing the limits. So far, he's never lost -- especially when it comes to women. That is, until his best friend's wedding, where Gabriel is suddenly face-to-face -- and deliciously body-to-body -- with the one woman hot enough to detonate his self-control.
Tessa Monroe is used to being in control with men. Gabriel, on the other hand, is pretty much her sex kryptonite. Hard, gorgeous, dark-eyed kryptonite. Even as her defenses whisper "danger," lust demands she take her pleasure with him and then run. Now they're skirting the edge of an explosive attraction…where one wrong move could mean disaster.
Very good book. Gabriel and Tessa met briefly at a Halloween party and hadn't been able to forget each other. Six months later they saw each other again and the sparks flew. They are very much alike, both known as "love 'em and leave 'em" types.
I loved the encounters between Tessa and Gabriel. Tessa resists at first because Gabriel is one man who threatens the control she keeps on her emotions. But it doesn't take long for the attraction to overcome her caution. All she wants is a chance to have him and get him out of her system. Gabriel is usually the same way with women, but something about Tessa has him wanting to do things differently after hearing her echo some of his same attitudes.
It was interesting that Tessa is more of a use them and lose them person. She doesn't believe in love and romance, partly because of her mother's example (six marriages) and what she has seen. Gabriel is a man who prefers a little romance with his lust. I loved how he decided he would romance her rather than just sleep with her, building the tension between them. Tessa is really confused by his actions and doesn't know quite how to react. Because Gabriel is away over the next few weeks, they spend a lot of time talking. Some of it is just normal, share your day stuff, but some of it was pretty hot. During that same time period, both of them realized that what they had was moving beyond the physical and it was scaring them both.
Gabriel and Tessa have something else in common. Both of them are intensely loyal to their friends, and tend to take on the responsibility for others' happiness and welfare. Gabriel has something going on with a member of his team that he feels is his alone to deal with. It's creating stress and problems and when it gets out of hand, Gabriel feels that the consequences are his fault, and that it was his distraction with Tessa that had him handling things the wrong way. Meanwhile, Tessa has some things going on with her own job that she would normally share with her friend Livi. But Livi is pregnant and planning her wedding (a stress all on its own) and Tessa doesn't feel right unloading on her.
When Gabriel returns and sees Tessa again, the tension that's been building explodes between them. What happens next is so intense that it kind of freaks them both out. They avoid each other for a bit, but eventually are drawn back together. I liked seeing their moments of vulnerability and support for each other. But then Gabriel decides that everything that went on with his team means that he can't have both his career and Tessa so he pushes her away. That confrontation is emotional, as Gabriel says things that are at odds with how he really feels but what he thinks he has to do. I hurt for Tessa as she tries to deal with her heartbreak. A heart to heart with Livi shows Tessa that it's okay to lean on your friends, and gives her the courage to fight for what she wants. I loved the ending and seeing how both Tessa and Gabriel risk their hearts for a chance to have it all.
I liked seeing more of Mitch and Livi from
A SEAL's Secret
. Their example is one of the things that eventually showed Gabriel and Tessa what they could have.