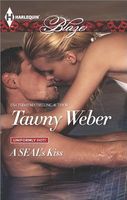 Series:
Sexy SEALs
(Book 4)
Uniformly Hot
(Book 43)
Subject: Navy SEAL Petty Officer Aiden Masters
Current Status: On leave
Obstacle: Deploy "Mission: (Fake) Engagement"…without actually falling for his fiancée!
The goal of Mission: Engagement is simple -- a fake engagement concocted to bring happiness to Sage Taylor's ailing father.
The Rules:
1) Treat it like a military mission
2) Keep the truth undercover
3) The "engagement" lasts as long as the professor's health depends on it; and
4) No sex…especially with each other!
But the incredibly spirited (and a touch quirky) Sage has never been one for rules. Especially when they involve Aiden's rock-hard navy bod and a ton of smokin'-hot sexual attraction. Which means in order to seduce this sexy SEAL, she'll have to completely outmaneuver him….
Very good book. It starts out with flashbacks to the weddings of Sage's friends, with each one becoming more interested in finding The One for Sage. When the most recent wedding has all three of her friends now focused on her, Sage does the only thing she can think of - concocts a fake engagement with her friend Aiden. She figures that she can fake it for awhile, then end it, without Aiden knowing anything about it. Then her father is diagnosed with cancer, and word of her "engagement" gives him happiness and hope.
The first Aiden knows of the engagement is when he shows up on leave and people start congratulating him. I loved how he didn't get angry once he heard the story behind it, and was willing to keep up the deception. It was also pretty amusing to see how he treated it like a military mission in an attempt to keep things under control.
Aiden and Sage had known each other for a very long time and are familiar with each others' personalities. Sage is known to be a bit flaky, unable to settle on a particular job or keep up a relationship for more than a few months. She also has a big heart and cares deeply for the causes she gets involved in. Aiden is highly intelligent and has been focused on his career as a SEAL. Sage's father has been his mentor for most of his life and he'll do anything to make the man happy.
I loved the attraction between them. Sage had been well aware of Aiden's sexiness for a long time, but did nothing about it. Aiden has also been attracted to Sage, but she's his mentor's daughter which makes her off limits. I had a great time with the part where they are setting up the background and rules for the engagement. Aiden is very pragmatic and doesn't see the necessity for the emotional details of the deception, while Sage is quite aware of the things that could blow their story if they don't lock it down. However, Aiden is very determined to protect them both from the dangers of their deception and insists on a "no sex" rule. I loved Sage's reaction to that, and how she was determined to break that rule as soon as possible.
I loved the growth of the relationship between them. Aiden is so focused and logical, and keeps his emotions well hidden. He's always had a thing for Sage, but has seen enough military marriages crash and burn that there's no way he'd try to tie her down. I loved Sage's ability to pursue her happiness. She knows it's out there somewhere and she's willing to keep looking until she finds it. I loved seeing how Aiden and Sage balanced each other. Her quirkiness and positive attitude helped to center him when the stresses of his work bring him down. At the same time, Aiden's steadiness gives Sage the rock she can lean on when her life gets a little crazier than usual.
Even better, I loved the way that each of them accepted the other just as they are. Aiden can see that Sage's causes are an integral part of who she is. I loved his support of her when thoughtless comments by their friends made her question herself. Sage is also very aware that being a SEAL is important to Aiden, that his commitment is a big part of his identity. I liked the way she supported him against those who were trying to use their engagement to change him. Things are going pretty well with Sage beginning to hope that their future can become a real one, when Aiden's self doubts cause him to back away. I loved seeing how it is the "flake" that has the clearer view of who they are and what drives them. She lays her heart on the line with Aiden and says some things to him that give him something to think about. I loved the ending and seeing how their feelings gave each of them the strength to take charge of their own lives. Aiden's big moment at the end was sweet and romantic.