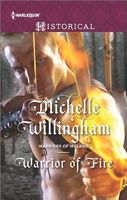 Series:
Warriors of Ireland
(Book 2)
A warrior with fire in his soul!
Fleeing an unwanted betrothal to the cruel king, Lady Carice knows her days are numbered. She has never felt desirable -- until she meets Norman soldier Raine de Garenne. Soon she longs to experience passion, if only for one night…
Aiding beautiful Carice's escape jeopardizes Raine's mission, for if he does not kill the king, his sisters will pay the price. And as each step toward his goal brings him closer to betraying Carice, he knows he'll have to make a choice. His duty…or his heart.
Excellent book. This is the second book in the series, but takes place at the same time as the first book. Carice has been promised in marriage to the High King of Ireland, a marriage that she does not want. On top of the stress of her impending marriage, she has been suffering from a debilitating illness for several years, one that is getting worse. Convinced that she is dying, she wants to live out her last days in peace, so she finds a way to escape. Cold and weak, she stumbles across a deserted abbey where she takes refuge. She awakens from a pain filled sleep to find a strange man in the room with her.
Raine is a Norman soldier who came to the abbey to bury the monks who died in a fire there. He felt responsible for their deaths, the guilt added to that which he already carries. He is a nobleman's son who has been forced into the English king's service. His father died at the king's hand, trying to protect his wife from the king's unwanted attentions. His mother killed herself, and his sisters were taken hostage by the king to force Raine to follow his orders. Raine is required to find a way to assassinate the Irish High King. When Raine discovers Carice hiding in the abbey, he knows the smart thing to do would be to return her to her father. Carice begs for his help, and something has him wanting to protect her the way he hasn't been able to protect his sisters.
Raine is conflicted because she brings out a part of him that he thought was lost forever. With her he is kind, protective, and feels that he is doing something good. But he also knows that he could use her to get close enough to the High King to do what is necessary to save his sisters. Never far away is his commander, who takes every opportunity to remind Raine of just what is at stake if he should fail. The more time they spend together, the more Raine wants to be the man she believes he is. He is falling hard for her, but knows that she will hate him when she realizes what he has done.
Carice knows she is falling for this hardened warrior who takes such good care of her. Though she is often weak and sick, she has an amazing amount of inner strength, and calls on that when she feels most like giving up. She believes that she will not live much longer and wants to experience as much of life as she can in the meantime. The things that Raine makes her feel spark more life in her than she has felt in a long time. Though he tries to resist, Carice eventually breaks through his control. But just as she is beginning to feel hopeful about the future, the extent of his deception becomes apparent.
There were so many ways for things to go wrong that I wondered how Carice and Raine were ever going to get their happy ending. Both Carice and Raine were determined to protect the other, even at the risk of their own lives. From poison to trial by combat, it looked like fate would succeed at keeping them apart. Help came as a repayment of a good deed done, and the redemption of a previously unlikeable character. There was a lovely twist to the ending as Carice tried to find the perfect wedding present for Raine. The epilogue was a sweet wrapup to the story.