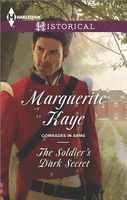 Series:
Comrades in Arms
(Book 1)
The truth behind the hero
Officer Jack Trestain may have been one of Wellington's most valued code-breakers, but since Waterloo, he's hung up his uniform. If only he could just as easily put aside the tortured memories he carries deep within… Perhaps enchanting French artist Celeste Marmion might be the distraction he so desperately craves?
Except Celeste harbors secrets of her own, and questions that she needs Jack's help to solve! With Celeste's every touch an exquisite temptation, how close can Jack get without revealing his darkest secret of all?
Good story about two emotionally wounded and vulnerable people. Jack has left the service after thirteen years, most recently as Wellington's best code-breakers. With the end of the war there is nothing to keep the memories at bay. He is haunted by the things he has seen and done, and the peace of his brother's country home only seems to make it worse. Celeste is an artist who has come to England to paint various scenes around his brother's home. The recent death of her mother has also brought forth some questions that she hopes to get answers to.
I hurt for Jack and the pain he is going through. Since his return from the war, he can't eat, can't sleep without nightmares, and has a hair-trigger temper. The care he gets from his family just makes him feel worse, as he feels he does not deserve it. He desperately wants to feel normal again but has no idea how to make it happen.
Jack and Celeste get off to a rough start, as she witnesses an intensely private moment. Her first glimpse of him delights her artistic soul as she admires his physical form, but it's the anguish she sees on his face that sends her running. Though angered by her invasion of his privacy, he quickly finds himself drawn to her and offers to show her the grounds. I thought it was interesting to see how each sees the other's pain and wants to help relieve it, without being willing to share their own.
Celeste grew up with parents who were emotionally distant from her, and was sent away to school when she was ten. She has spent the years since then feeling rejected by those who should have loved her. She has been estranged from her mother for years. A letter written by her mother shortly before her death has Celeste drowning in guilt, thinking that she might have prevented it, and with unanswered questions about who her mother really was. Jack's questions and suggestions have Celeste looking at her past in a different way, tearing down the walls she has built around her emotions. She takes Jack up on his offer to help her find the answers she's looking for.
Jack starts out looking at Celeste as a distraction. Her search is just the sort of puzzle he is good at, and concentrating on that could give him a break from the memories that haunt him. The more he finds out about her quest, the more he wants to help her avoid the crippling guilt that he is experiencing himself.
There is also an intense attraction between them. Jack is surprised by it, as he hasn't felt anything like it in years. He also considers himself a bad bet, and tries to resist giving in to it. Celeste is a grown woman, confident in her own needs. She is just as attracted to Jack and has no problem with the idea of indulging in it. She quickly comes to realize that what is between them is far more than she has ever experienced before. As they work together on her quest, they are drawn closer together by their empathy for each other's pain. I loved Jack's determination to get Celeste her answers, and his need to keep her from suffering the way that he does. I also loved the way that Celeste's own personality and empathy enables her to stand up to Jack when he is being a jerk.
Celeste's growing love for Jack is especially apparent when she agrees to go to the dinner honoring Wellington with him. Though feeling out of her element, she is determined to support him in whatever manner he needs. The scene with his fellow officer was heartwrenching, as Jack's memories of that horrific event are finally exposed. Her ability to get him through it said so much about her feelings for him.
A trip to France finishes off the search for Celeste's answers. All that is left is for each of them to be able to see that they bear no responsibility for the actions of other people. It is not something that is easily done, and it takes the help of the one they love to be able to move forward into the future, The epilogue was great, as it showed how they have turned their pain into something good.