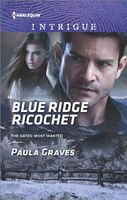 Series:
Gates: Most Wanted
(Book 2)
The mountains are dangerous -- but not as dangerous as what's building between them…
Missing and presumed dead, wanted FBI staffer Dallas Cole is running for his life…until undercover agent Nicki Jamison finds him lying crumpled in the road. To his relief, his rescuer doesn't ask questions, doesn't call the cops. Who is she? What secret is she hiding? Not trusting Nicki any more than she trusts him, Dallas joins the headstrong agent's mission to take down a ruthless militia group. But when she falls into their brutal trap, Dallas will do whatever it takes to be reunited with Nicki and her irresistible, tough-as-nails charm.
Very good book in which the suspense continues to build from the moment Dallas stumbles into the path of Nicki's car to the very end. Nicki first made an appearance in
Two Souls Hollow
, as Anson's trouble magnet cousin. In this book she is working for Quinn at the Gates, undercover in an attempt to get close to leaders of the Blue Ridge Infantry militia group. Dallas was introduced in
Smoky Mountain Setup
as Cade Landry's contact in the FBI. His actions caused repercussions for both Cade and himself. Dallas has just escaped from three weeks as a prisoner of the BRI.
Their initial meeting is an exercise in mutual distrust. Nicki recognizes Dallas from the information she has seen at the Gates. No one knows if his disappearance is related to the BRI, and if he is working for them or been captured by them. Though it appears that he has escaped captivity, his reluctance to contact anyone makes her suspicious of him. Dallas agrees with Cade that there is something fishy going on at the FBI and as a result doesn't want to let them know where he is. Nicki's quick agreement to leave the authorities out of it has him wondering what she is up to. He finds out in an interesting display of her distrust and his resourcefulness.
I liked Nicki. She's resourceful and independent. She grew up in the hills and is familiar with groups like BRI and what they do. She is driven to help take down the group because of guilt she feels from a previous job she did. She is using her EMT training as a hook to catch the interest of the leader she is after. She also uses her training to help the women and children who need her. Dallas is also driven by his need to find out who at the FBI betrayed him and Cade. He also had a hill country upbringing that he has to call on a couple times during the book. Once they realize that they are on the same side they find a way to combine their resources and work together.
Working together also brings out the attraction they feel for each other. I liked the way that they admitted it, but also realized that this wasn't the time to indulge themselves with it. With the attraction came protectiveness as they worried about each other's safety. The attraction grows quickly to love, surprising them both.
The suspense of the story was excellent, as there were two things going on. There was Dallas's escape from the BRI and his attempts to find out who set him up. The other was Nicki's mission to get herself close to the local leadership of the BRI. The closer she has to get to one of the men, the more nervous she gets, but her determination doesn't waver. There is an interesting twist when she finally reaches her goal. She is surprised by what she finds there, and her determination and compassion come together to help someone who really needs it, even as her life is in danger. Dallas has trouble of his own as his investigation brings him unwanted attention. He doesn't trust Nicki's boss Quinn, but has to suspend some of that when Quinn sends an agent to warn Dallas of the impending arrival of the FBI to take him into custody. He has a pretty amusing conversation with said agent about his opinion of Quinn and the fact that Quinn is a "spook". Things get even more intense when they discover that Nicki has been taken and it is up to them to rescue her. That ending was really exciting and kept me hooked until it was all over. While Dallas and Nicki come through okay, there are still unresolved issues regarding the BRI.