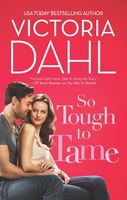 Series:
Jackson Hole
(Book 3)
Tough to tame, but not too tough to love…
Charlie Allington is supposed to be on the fast track to the top -- a small-town girl who was making it big in her career. Instead, she's reeling from a scandal that's pretty much burned all her bridges. Now, out of options, she needs a place to lick her wounds and figure out her future. True, working at a ski resort in rugged Jackson Hole, Wyoming, isn't her dream job. But if there's one perk to coming back, it's a certain sexy hometown boy who knows how to make a girl feel welcome.

Cowboy Walker Pearce never expected a grown-up Charlie to be temptation in tight jeans. She's smart and successful -- way out of league for a man like him. But he's not about to let that, or his secrets, get in the way of their blazing-hot attraction. Yet when passion turns to something more, will the truth -- about both of them -- send her out of his life for good…or into his arms forever?
Not my favorite of this series. Charlie has come back to Jackson Hole after working for several years in Tahoe. Unfortunately, while she was there she got caught in the middle of some illegal dealings, then discovered that the man she thought she loved was married and setting her up to take the fall. While cleared of any illegal doing, her reputation is toast and the best she can do is working for an old high school classmate. The working conditions aren't great, but at least she has a job.
Walker is also dealing with work related issues. He was working at a local dude ranch when the boss's wife went too far in her pursuit of him. He likes women a lot, and is well-known for giving them pleasure, but messing with a married woman didn't feel right. However, the boss took a dim view of the rumors and fired him. He's having a hard time finding a new job because no boss wants to hire a man he can't trust around his woman. It doesn't help that he's got issues that limit the kinds of jobs he can get anyway.
When they were in high school, Walker and Charlie were friends, as well as Charlie being Walker's tutor. Charlie had a crush on Walker, but he was the school's hottest guy and she was a nerd. Strangely enough, Walker had a crush on her, but felt that he was too stupid to look at a girl like her. When they meet again as adults there is immediate and overwhelming attraction.
This is where it starts to fall apart for me. They can't keep their hands off each other and go at it whenever they are together. Every time one of them starts asking uncomfortable questions or says something they don't want to talk about, the other immediately tries to distract with sex. They appear to be growing closer, with both of them discovering that interest in other people is becoming non-existent. Unfortunately, neither of them is really sharing what is most important.
There were things I liked about Charlie. I liked the way she is doing what she needs to do to start over. She is working really hard at the new job, even putting up with the crap that her boss is dishing out. I also loved her relationship with the irascible Rayleen. Instead of being offended by the woman's treatment of men and the hard time she gives Charlie herself, she is completely amused by her. However, as Charlie got closer to Walker, I didn't like that she never told him what she had gone through before she came home. I also didn't like the way that she was constantly nagging at him to apply for jobs other than ranch hand, even though he told her to stop. I wasn't at all surprised that her lack of honesty with him came back to bite her when he did find out.
There were also things I liked about Walker. He's is a really nice guy at heart. He may sleep with a lot of women, but he treats them well while he's doing it. He doesn't cheat on them, and is clear that he doesn't do commitment. He also has a fantastic relationship with his brother, who is about as different from Walker as a brother can be. And I really loved seeing him with kids. He never had any trouble relating to kids, even the handicapped ones. I didn't like the way that he was always so down on himself. Yes, he's dyslexic, which caused him great problems at school and with his father. But he refuses to listen to anyone who tries to tell him that he is capable of far more than he believes.
I had a hard time believing in a romance between Walker and Charlie because they frequently didn't seem to actually hear what the other one was saying. They also kept their emotions to themselves most of the time. There were a few times when they would open up a little bit, but then would retreat again. It wasn't until near the end, when Charlie's past came up, that they seemed to share some real emotions, and those were negative ones. It did give them each something to think about, and realize that they had decisions to make. I liked the conclusion as both admitted their mistakes, which gave me hope that they could pull off a happy ending after all.
The best part of the book was actually what was going on up at the resort. Charlie is actually very good at her job, and she isn't there long before her instincts tell her that there is something funny going on. She's not sure if she should trust herself at first, because of her previous history, but eventually she does investigate. I really loved seeing her figure things out, then have to decide what she's going to do about it. I loved the decision she made and how she made it happen.
The epilogue was good, with a nice wrap up to the story lines. I liked seeing where Charlie and Walker's decisions about their futures took them. I also loved the last part with Rayleen. It was sweet and salty, just like her.