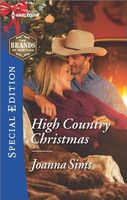 Series:
Brands of Montana
(Book 2)
This cowboy's in a family way!
It was supposed to be a harmless summer fling. Until a night of passion leaves ranching student London Davenport with an unexpected preholiday gift. And although wedlock wasn't in Tyler Brand's immediate plans, the footloose rancher is ready to step up and do the honorable thing by the stunning woman he secretly adores. The only obstacle is the stubborn mother-to-be.
London can't let anything stop her from returning to Virginia at the end of the semester…not even the irresistible father of her unborn child. How can she tell Tyler the truth about why she can never live happily-ever-after on his cattle ranch? But London's about to find out how far one determined cowboy will go to fight for her and the future of their family.
Good book. London is a summer intern on the Brand ranch. She loves the work that she does, especially working with the horses. She's also very attracted to Tyler Brand. One night of giving in to the attraction, and a malfunctioning condom, leaves her pregnant and conflicted. On the one side she wants to stay in Montana, but on the other side is her need to return to her home in Virginia. Tyler has been drawn to London from the beginning. The rules of the ranch are to stay away from the interns, but that hasn't been possible for Tyler. Resisting her that night had been impossible.
One of the things I really liked about this book was that they handled the whole pregnancy issue in a mature manner. Tyler made sure that London knew that they were in it together. I thought he showed a great deal of sensitivity when they got the tests, and how he knew she needed the privacy to deal with them. I loved the description of where he took her. Tyler wants her to marry him, but London insists that it isn't possible.
I felt bad for London because of the conflict she was suffering. When she finally gets up the courage to tell him about the son she has back home, she worries that it will change the way he looks at her. She never really got wholehearted support from her family with her first pregnancy. I loved Tyler's complete acceptance of her past and how he handles the details. He continues to tell her that he wants her to marry him, but is also wise to the fact that if he pushes she'll dig in her heels.
It was really sweet to see how Tyler takes care of her when she's sick, and helps her to see that she has to put off finishing school. He's always there when she needs him. London slowly begins to realize how much she cares for him, but needing to get back to her son is always at the back of her mind. If she could convince her son that living in Montana was a good thing, she'd be able to have the life she wants. I loved Tyler's plan to invite JT to the ranch for Christmas, and show him what it would be like.
I loved the whole visit to the ranch. JT is a typical teenager and his attitude at the beginning is less that cooperative. It was great to see how the whole family got involved in the visit. London was worried that Tyler and JT weren't connecting, but Tyler was confident that it would happen. I loved seeing that bonding moment when it came, and the difference it made to London's hope for their future. The ending was sweet and romantic and perfect for Tyler and London.
My only dissatisfaction was that there were mentions of possible trouble with JT's father, but nothing more was said about it.