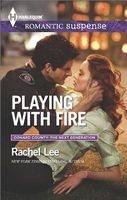 Series:
Conard County: The Next Generation
(Book 25)
Conard County
(Book 43)
The cunning arsonist targeting Conard County has fire chief Wayne Camden stymied. Teaming up with investigator Charity Atkins seems like a no-brainer. She has the expertise to track down the firebug before he kills someone. But Wayne never anticipated making Charity a target.
Since his wife left, Wayne's had little interest in relationships. The single dad is unsettled by the electrifying attraction Charity ignites. Wayne is rooted in the community, and Charity's a nomad. But with danger stalking them, irresistible desire forces them both to reevaluate their lives.
Very good book with excellent suspense and a terrific romance. Wayne is frustrated by his inability to find the arsonist plaguing Conard County. The latest fire nearly killed a family and he wants it stopped before someone dies. Charity is the arson investigator for the company that insured the latest victim. Her job is simply to decide if the victim set the fire to defraud the insurance company, but something about this case has her wanting to do more.
Wayne is the single dad of a teenage daughter and eats, sleeps and lives his job. He doesn't have the time or inclination for a new relationship. However, there is something about Charity that makes him want to get closer to her, even though he knows she's only there for a short time. Charity is single, and though she's had a few relationships, they never last. She is very attracted to Wayne, and though she doesn't do short-term hookups, she's really tempted by him.
I loved the development of their relationship. At first it was strictly work, though the attraction was simmering beneath the surface. Because both are so good at what they do, they connect immediately over the investigation. I loved seeing the way they were able to bounce ideas off each other as they tried to find the arsonist. They both acknowledged the attraction but agreed that it couldn't go anywhere. I loved seeing them get to know each other and become friends while trying to resist the heat. Wayne's natural protectiveness came out as the danger to Charity increased. At the same time, Charity's independence and stubbornness had her digging in her heels and insisting on seeing the investigation through.
Both Charity and Wayne had some issues to work through as their feelings for each other grew. Wayne had to let go of the self blame over the dissolution of his marriage and believe that he has a future with a different type of woman. Charity had much more to work through. One of the biggest things was to learn to share her feelings, overcoming the training of her early years. She also has to learn about herself and get past what she thinks she should be doing to what really moves her. I loved Wayne's patience and how he helped her to see that she has the courage to go after what she really wants. I loved the ending and seeing both of them step past their vulnerabilities and fears to embrace a future together. The epilogue was fantastic and gave a good indication of what is in their future.
The suspense side of the story was really good. There was a brief glimpse of the arsonist's point of view, where you see that there is something driving them but you don't really know what. The intensity of the fire, and the danger that Wayne was in definitely grabbed my attention. I loved the way that Wayne asked for Charity's help. Though reluctant at first, she is quickly drawn in. The arsonist shows their worry over being discovered and willingness to do whatever necessary to remain undiscovered. After the first attack on Charity I was pretty sure I knew who was behind it, and by the second I was sure, but I still had questions about all the motivations. One was obvious, but the other was not. I loved the details of the steps that Wayne and Charity were taking as they tried to figure out who it was. As the arsonist became more desperate I was on the edge waiting to see what would happen next. The final attack was scary and I was glad that Wayne was there to save her. The resolution was good, though I would have liked to see Wayne face the arsonist rather than hear about it afterward.
I liked Wayne's daughter Linda very much. She has a great attitude. It was fun to see her tease her father at the same time she was trying to look out for him. It was sweet to see her questioning Charity at dinner, and later as she found ways to throw them together. I loved that the title of the book seems to have come from a comment she made at the end. It was also great to see Maude in all her grumpy glory. Other residents of Conard also made appearances, especially Gage and his part in nabbing the arsonist.