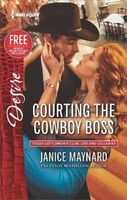 Series:
Texas Cattleman's Club: Lies and Lullabies
(Book 1)
For one wealthy rancher, it's an upstairs/downstairs affair!
As new president of the Texas Cattleman's Club, Case Baxter has his hands full. He needs a housekeeper, but he's been burned before by gold-digging employees. Still, when fiery redhead Melinda Winslow shows up, his attraction is undeniable.
Mellie has big plans for her small cleaning service. A powerful client like Case Baxter is a boon to her business. But falling for him could mess everything up. Mellie knows how to handle a mess…if Case isn't too hot to handle!
Very good start to the new series. Case has just been elected as the new president of the TCC and is feeling a bit overwhelmed by everything he has to do. He has a busy ranch, his investments to track, and now the TCC. Unfortunately, his house falls at the bottom of the list and it is beginning to show. He needs to hire a housekeeper to replace the one who retired.
Case is a very private person who has trust issues. Long ago he had fallen in love and married an employee, who turned out to be interested only in his money. Since then he has kept his liaisons superficial, and women are not invited to his home. Mellie's company comes highly recommended, so he decides to take a chance. He doesn't expect his new housekeeper to be a beautiful redhead who piques his interest.
Mellie has devoted all her time and energy to her business, with big plans for eventual expansion. Having a client like Case would be an excellent advertisement. The last thing she needs to do is fall for a man who is way out of her league, but she can't deny that he tempts her.
I loved the relationship that developed between Case and Mellie. There were sparks from the beginning, but not all of them were good. Case was kind of obnoxious with his attitude about his privacy, and sort of put his foot in it when he asked his friend the sheriff about her. I loved seeing her stand up to him and let him know exactly how she felt. It also added to the sparks of attraction he felt for her. They came to a cautious truce over the next few days, though Case had a disconcerting way of flirting with Mellie that left her off balance.
Things got really interesting when she arrived one day to discover Case down with a bad case of flu. It was pretty amusing to see her try to help him while attempting to maintain her distance from him. A feverish Case was pretty funny, as was his conversation with his doctor friend when he started to recover. Mellie had some pretty interesting conversations with herself as she was caring for him. It really broke the ice between them, and as he was recovering they spent a lot of time together. Case really started laying on the flirtatiousness, determined to get her into bed with him, and Mellie was finding it harder to resist him. The night of his TCC party finally brought them together, but not without some later doubts on her part. She's afraid that she's falling in love with him and that she'll end up with a broken heart. The night's problems are capped by the appearance of Mellie's father.
Mellie's father is an alcoholic, a gambler and a man who takes advantage of Mellie's love for him. We see several instances of the way he treats her, and it isn't pretty. There's definitely a feeling that he is going to find a way to ruin anything she might have with Case, and that feeling turns out to be accurate. His actions that night are really terrible and leave Mellie caught in the middle. But it gets even worse after he sobers up.
In the prequel, Reclaimed by the Rancher (reviewed at the end), there is an oil company that is buying up land all around Royal. In this book, Mellie's father, whose company owns properties around Royal (including the land on which the TCC stands) suddenly uses his position to threaten Case and the TCC. He also claims that Mellie knows and approves of what he is doing. This plays into Case's fears about being used, and he makes a real ass out of himself, saying some really terrible things to Mellie. Though devastated and heartbroken by his attitude, I loved that she doesn't just fall apart. Mellie takes action, and I loved what she did. It was really satisfying to see Case, once he got over his own feelings of betrayal, to realize what he had done. Then "all" he has to do is find a way to apologize and see if he has succeeded in ruining everything. I loved his big moment and seeing him properly grovel in front of her. I'm looking forward to the rest of the series and finding out what the story behind the land grab is.
Reclaimed by the Rancher by Janice Maynard
Only the fiancé she left in the dust can help her!
To fend off a mysterious oil company's aggressive buyout offer and save her family land, Lucy Peyton can only turn to one man for help. Yes, she'd practically left Jeff Hartley at the altar, but she'd had her reasons. Such as catching the rich rancher kissing her best friend before the wedding! But now, face-to-face with Jeff on his doorstep, she realizes the chemistry between them is as strong as ever and panics.
If Lucy wants his help, she'll have it—on his terms. She'll also receive a lesson in what she missed when she ran. Because in the end, Jeff Hartley always gets what he wants…no matter how long he has to wait.
Short story/prequel to the series, found on the Harlequin website and in the back of the November Desire books. It begins with Lucy showing up at Jeff's for the first time in two years, ever since she cancelled their wedding the day before it was to happen. Jeff is stunned, and none too happy to see her, remembering what her desertion felt like.
Lucy is desperate to keep her cousin from selling their family land to an oil company, she goes to Jeff for help. She's still hurt by the way he betrayed her, but believes that he'll be willing to do what's needed to protect the land. She doesn't think that the man she's worked so hard to forget can still attract her but he does.
Jeff can't believe that Lucy had the guts to come to him for help, but has to admit she knows which buttons to push to get him to agree. He's not going to make it easy for her, though, and lays down some conditions. He's determined to either get her out of his heart forever, or take the future they should have had from the start.
I liked the way that Lucy wanted to protect the family land. She seemed to have a realistic view of her cousin, though he insists that this time will be different. I'll be interested to see if there's any followup in future books. When she confronts Jeff about what happened at the rehearsal dinner, I could see the problem from both sides. Lucy felt betrayed that Jeff was kissing her maid of honor, and Jeff was furious that she never gave him a chance to tell her what happened. She simply reacted, without showing enough faith in him to want the truth. Jeff made his own mistakes by giving in to wounded pride and not insisting.
The heat between them when they met for dinner to discuss the deal was intense. Jeff was determined to show her what she had missed. Though his method was a bit underhanded, if she hadn't been willing I'm sure he wouldn't have done it.
The confrontation with Kristin went just the way I expected to and I didn't feel badly for her at all. I did feel for Lucy, whose feelings of betrayal were brought back to the surface, but with a different focus. The ending was good, especially with Jeff insisting on not waiting to get on with their future.