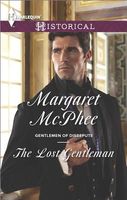 Series:
Gentlemen of Disrepute
(Book 7)
Is she his downfall or redemption?
Kate Medhurst's days on the high seas are numbered with the fearsome Captain North on her tail. Once captured, pirate Kate knows she should fight him -- should hate him -- but she cannot.
Captain North is no gentleman -- at least, not anymore. But his vow to regain his honor has given him a fresh start. Until he confronts Kate and everything changes. Because suddenly breaking his vow seems a small price to pay to save the woman he loves…
Very good book with a different kind of heroine. Kate is an American widow, whose husband and friends became privateers as a way to support their families after British blockades destroyed their livelihoods. Kate's husband was killed when his ship was captured by the British, so Kate took over as captain of the ship. She and her crew have wreaked their vengeance on British merchant ships, while hiding her identity from them.
Kit North is a man driven to make reparations for his past. As a young man he had done things that buried him in dishonor and ruined his family's lives. After spending a short time as a pirate himself, life intervened in a way that helped him become the man he is now - a well known and tenacious pirate hunter. He has one final mission before he retires - to capture the pirate La Voile.
The story has an intense start as Kate and crew spot a lone ship just asking to be boarded. They don't know it is a trap until it is too late. Thanks to Kate's deceptions, Kit North believes her to be a woman captured by the pirates and "rescues" her, after killing the man he believes to be the pirate leader. Kate is horrified and desperate to find a way to escape from him and return to her crew. Things don't go as she had hoped, and after an encounter with a shark and a British island dealing with yellow fever, she finds herself a guest of Captain North and bound for England.
There is an immediate attraction between Kate and Kit, something that neither of them welcomes. Kate made a vow that she would never forget her husband, and being attracted to another man, especially one of the hated British, is unacceptable. Kit is equally attracted to her, but his past prevents him from believing that he deserves any kind of happiness.
Over the course of the journey, Kate discovers that though Kit is one of the hated British there is much about him that she admires. Kate learns a little bit of what Kit has been through, but senses that there is more to what drives him. Kit finds himself somewhat envious of her late husband because of the love she had for him. He also gets the feeling that there is some secret that she is keeping from him. He figures it out as they arrive in England, which puts him into a quandary. Since he became a pirate hunter, his personal vow was that his honor came before everything else. This means that he cannot lie, but telling the truth could put Kate's life at risk.
Kit's battle with himself and his feelings is a hard one. The solution to his dilemma is one that allows him to retain his honor, but also keeps Kate safe. Another problem arises when America declares war on England, stranding Kate in dire circumstances. The only thing he can do is marry her.
The completion of Kit's final mission as a pirate hunter also signals the beginning of the reason for his return to England. Kit has chosen to return and try to make right the results of his actions three years earlier. I loved seeing him return to the public eye and face those he had wronged. He finds it easier to do so with Kate by his side, but her feelings for her late husband still stand between them, as well as his own secrets. Kate has to find a way to let go of the past if she wants to be able to move forward with the love that has grown for Kit. I loved her support of him and how she helped him through his own crisis. The scene with his sister was especially emotional and the confrontation with his friend was intense. I loved the ending and the decision they made about their future together.

I really enjoyed the journey from the Caribbean to England. The details of shipboard life were interesting. I also loved the secondary characters of Gunner and Tom. Kit's relationships with them showed a different side of him, one that started Kate's change in feelings toward him.