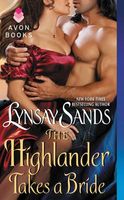 Series:
Highlands
(Book 3)
Sword fighting, swearing, and riding astride come naturally to Saidh Buchanan. Simpering and holding her tongue definitely not. Raised alongside seven boisterous brothers, Saidh has little interest in saddling herself with a husband until she glimpses the new Laird MacDonnell bathing naked in the loch. Though she's far from a proper lady, the brawny Highlander makes Saidh feel every inch a woman.
She has an angel's looks, a warrior's temper, and seeks out his kisses with wanton eagerness. Little wonder that Greer is intrigued by his comely guest. When reckless desire overtakes them, he's more than willing to make an honest woman of her. But Saidh is the target of a hidden enemy, and Greer faces the battle of his life to safeguard the woman he wants above all others.
I loved this book. Lynsay Sands always seems to come up with heroines who don't fit expectations and it makes for a really fun story. We find out early that Saidh has not had the usual girls' upbringing. As the youngest in her family, with seven older brothers, she spent far more time with them than doing girl things. So she learned to hunt, fight, use a sword, ride astride - everything that her brothers did. She also tends to speak bluntly and can curse with the best of them.
In the prologue, Saidh witnesses something that her cousin does, but understanding the motivation covers it up. Four years later, while visiting a friend, she hears that Fenella has just been widowed for the fourth time in four years. Worried about her cousin, and the rumors swirling about her, Saidh rushes off to see her.
Upon her arrival at the MacDonnell keep, she sees Fenella again for the first time in those four years. Though rather disgusted with Fenella's constant crying, she's pretty sure that she isn't guilty of killing her husbands. When Fenella begs her to stay for awhile, Saidh gives in, hoping to help her through her grief. She's also rather intrigued by the new laird, Greer MacDonnell, who she saw swimming naked in the nearby loch. While she's never been much interested in marriage, something about him rouses strange feelings in her.
Greer became laird upon the death of his cousin. He hadn't expected it, as his cousin was a young man. Greer has spent years as a sword for hire, but he is determined to do his best as laird. He has some issues he has to deal with, not the least of which is his late cousin's wife. I don't blame him for staying as far away from her as he can. I also loved seeing him with his squire, Alpin, who at nine years old has very definite opinions of the proper behavior for a laird and has no problem with lecturing Greer about his responsibilities. His first sight of Siadh sends him running because he knows his intense physical reaction to her isn't appropriate, but his first conversation with her leaves him wanting more.
I loved seeing Greer and Saidh together. They are so much alike that it is no wonder the chemistry between them is off the charts. Saidh has no feminine wiles thanks to her brothers. I loved her lack of filter when talking to him, and that she doesn't defer to him just because he's a man. I also liked that, while she may be innocent, she isn't naive, and gives as good as she gets when he kisses her. It was fun to see him try to keep control and fail every time. When he realized that resisting wasn't an option, he took steps right away to make sure that her reputation is protected. The arrival of her brothers in reaction to his letter was hysterical, and her reaction was even better. I loved her comments on being "ruined" and how she stood up to her brothers. I loved the growing of their relationship, as it is built not just on their attraction but also on the obvious respect and liking that they have for each other. I especially liked seeing how much Greer enjoyed Saidh's uniqueness.
Once the wedding happened things started getting really interesting. Saidh survived a couple of attacks on her, escaping the second one only because of Alpin's actions. No one could figure out why she was being attacked, though her brothers were sure that she had made someone mad. I was sure I knew who it was for most of the book, but then questions were raised about that likelihood. During the last few chapters my suspicions bounced back and forth among several possibilities before finally settling on one, and even then I wasn't wholly certain. It wasn't until the final confrontation that we get the how and why that explains it all.
The secondary characters were all marvelous parts of the story. Alpin was really fun with his young boy's view of what was the right and wrong way to behave when you were laird or lady. I loved his running commentary on Saidh's actions when he accompanied her riding. Saidh's brothers were great. Each of them had their own personalities and handled their sister in different ways. Whatever else they did, they accepted her for who she was, even taking the "blame" for how she turned out. I'd like to see them all get their own stories.