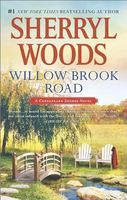 Series:
Chesapeake Shores
(Book 13)
Spirited, spontaneous Carrie Winters has grown up under the watchful eyes of not only her grandfather Mick O'Brien, but the entire town of Chesapeake Shores.
Now that she's home from Europe, a glamorous fashion career behind her and her heart broken, there seem to be far too many people watching to see if she'll live up to the expectations her family has for her.
As if that weren't enough pressure, Carrie finds herself drawn to sexy, grief-stricken Sam Winslow, who is yearning for someone to help him raise the nephew who's unexpectedly come into his life after a tragedy.
With her own life in turmoil, is Carrie really ready to take on a new career and a new man? Or is Sam exactly what she needs to create the strong, loving family she's always wanted?
I loved this latest addition to the Chesapeake Shores series, as one of the two little girls from the very first book has grown up and finds her own true love. Carrie grew up in Chesapeake Shores, but moved away in search of her own place in the world. After finding out that her boss and the man she thought she loved wasn't what she thought, she has come back home. She's been wallowing in her unhappiness a little bit, filling her time by taking care of the various children in the family. She hasn't decided yet what she is going to do, and is getting tired of the hassle from members of her family, especially her grandfather Mick.
Carrie is definitely going through a rough time, trying to figure out what she wants to do. She knows she wants it to be there, as she has missed her home and family more than she expected. A comment from her cousin Luke gives her food for thought, but she's distracted by the arrival of a handsome but harried looking man.
Sam Winslow is new to Chesapeake Shores, the web tech for the town newspaper. He'd barely arrived in town when he his sister and brother-in-law were killed in an accident, leaving him as guardian of his six year old nephew Bobby. As a formerly foot loose and fancy free bachelor, Sam is feeling overwhelmed by the thought of being an instant father. Dashing in to the pub to grab some take out, leaving Bobby snoozing in the car (though he keeps a close eye on the car while doing it), Sam runs afoul of Carrie. Their initial meeting has sparks flying, with each of them doing some judging of the other. Things get better once they both calm down.
I loved both Carrie and Sam. Carrie has finally reached the point where she is ready to move on with her life. Luke's suggestion finds fertile ground as she realizes that taking care of children is something that she both enjoys and can get passionate about. She knows her family well and realizes that she will have to make sure she has all her ducks in a row before she tells them her plans. I was really impressed with the way she went about her research. It was also very helpful for her that she had Sam to talk to. I felt bad for her when she didn't get the immediate support from her family that she wanted.
I thought Sam was terrific. Even though he had been a carefree bachelor, he didn't hesitate to step up when it came time to take care of Bobby. His fears were real and realistic, as he didn't know anything about kids or what they need. He is used to doing things on his own, so asking for help isn't easy. Even though he makes a few mistakes along the way, he is determined that he and Bobby will be the "team" that they need to get through it. There were some really sweet moments between the two of them as Sam went from nervous uncle to (semi) confident dad.
I loved seeing the relationship develop between Carrie and Sam. There were sparks from the beginning, but neither is ready to begin a relationship. Carrie is still recovering from her last one, and not all that confident in her ability to pick the right man this time. It doesn't help that her family members keep warning her against getting involved with Sam. At the same time, Sam knows that he needs to concentrate on Bobby's needs first. He's drawn to Carrie, but he also isn't so sure that she is going to stay around and doesn't want Bobby to get attached and then hurt. I loved that they became friends first, helping each other out when needed. Even when they admitted that their feelings were growing they tried to keep it private, not wanting to deal with interference from Carrie's well meaning but pesky relatives. I loved seeing them both overcome their fears and take a chance on each other.
As always, the various O'Brien relatives play important parts throughout the book. Mick is always the biggest presence, wanting to direct things the way he thinks they should go. It's always fun to see Megan and Nell find ways to rein him in. Nell had an excellent role in this book as she dispensed love and advice in the form of cooking lessons. She also showed her fair share of O'Brien deviousness when Carrie's ex showed up in Chesapeake Shores. But it was Mack and Susie that had the biggest of the secondary roles. They have had disappointment after disappointment in their quest to adopt, and it has affected Susie very badly. She turns into a real nasty piece of work and I was totally disgusted with her. I thought that Mack and Carrie had an incredible amount of patience with her. She knew she was wrong and would apologize, then turn around and do it again. I did like the way that things went for them at the end.