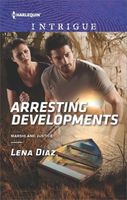 Series:
Marshland Justice
(Book 2)
A mysterious beauty had nursed him back to health -- and attracted the attention of some very bad men…
Somewhere over the Everglades, the airplane's engine failed and Dex Lassiter plummeted into the swamp's murky depths. Amber Callahan didn't expect to find any survivors in the wreckage, but Dex was about as tough as they came. And too smart not to dig into why a woman like her had run away to settle in remote Mystic Glades. Or why a killer circled their every move. As floodwaters rose, deputizing Dex was just what this lawless small town needed. Because escape wasn't possible. And the only thing Dex did better than starting things was defending them.
Good book with plenty of suspense. We first met Dex in
Missing in the Glades
, as Jake's partner in the new PI firm. At the beginning of this book, he is flying down to Florida to stop his friend from marrying a woman he's just met. But a frank conversation convinces him that Jake has never been happier, so he gives up that quest. Finished with his conversation, he notices that his instrument panel has malfunctioned, and then his engine quits. He crash lands in the swamp, with a cut on his leg to complicate matters.
Amber saw Dex's plane go overhead, then heard it crash. She has been hiding out in the swamp for two years, running from the trouble she's in. But she can't leave an injured man to fend for himself, especially when the cut on his leg rapidly gets infected. She gets him back to town and nurses him back to health, only to find herself arrested for the murder of her grandfather.
The first half of the story deals with Dex's determination to repay Amber for saving him by helping her out of her difficulties. Though he barely knows her, he's quite certain that there is no way that she would have killed the grandfather she loved so much. With his money he can afford to hire the best lawyers and investigators and he is determined to find out the truth. The difficulty is that he can see that she is hiding something from him, something that might be able to clear her. I loved seeing how Dex seemed to be able to read Amber so easily. Amber is very protective of those she loves, and she believes that it was an accident. I did find it a little odd that the original autopsy didn't come to the same conclusion as the second one right away, but Dex did pay for the best. We also get to know both Dex and Amber a little bit. Amber definitely comes through as a very caring young woman, willing to risk her freedom to help someone who needs it. Dex starts out more self-centered, focused on what makes him happy. He's an admitted womanizer and doesn't always think about the effect of his actions on others. He isn't mean though, and his conversations with Amber while in the swamp are pretty funny.
The story switches directions once Dex has recovered and solved Amber's legal troubles. He has discovered that his crash was not accidental, but the result of sabotage on his plane. He's staying with Amber for a few days to help her get settled in her grandfather's house, and prepare for a storm that is bearing down on them. While they are there, several local friends stop by and are stranded there because of the storm, as are four of Dex's friends. While all are trapped in the house, Dex's ex-fiancee is murdered and it has to be one of the people staying there. As Dex and Amber investigate, it is hard to tell who has the most motivation to kill Dex. Between the rising waters and the search for the killer, the intensity continues to build. I was on the edge of my seat until it was all over.
I enjoyed the development of the romance between Dex and Amber. Dex was quite a flirt, but ended up being far more honorable than I expected at the beginning. I liked his protectiveness toward Amber, even when he was trying to protect her from himself. Amber sees past Dex's flirtatiousness to the good man that he is. She is far more worried about the danger to him than any problems she might have. The attraction that flared between them was something that neither one could resist. I liked seeing how the attraction led to more. Both changed thanks to the other's influence, with Dex becoming more aware of the people around him and how he treats them, and Amber discovering that living her life according to the guilt she felt was no way to live at all. The ending was sweet and romantic. I can't wait to see what's next for the people of Mystic Glades.